Inventory Management and Xero Accounting Software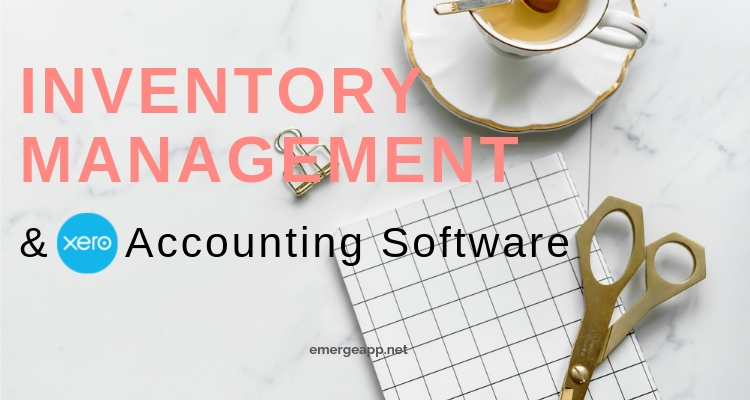 There's no question that inventory management and accounting are inseparable. Small and medium-sized businesses that deal in physical goods want to manage their inventory and the flow of goods in their business. And to benchmark and report their financial performance. Thankfully, business software exists to make these two tasks easier.
Here, we'll cover how accounting concepts play a part in managing inventory, benchmarking performance, and reporting results. Next, we'll explore a cloud accounting solution called Xero that manages your financial records. Finally, we'll explain how EMERGE App integrates with Xero to offer the best of both worlds in inventory management and accounting.
---
Why Not Get All-in-One Accounting and Inventory Management Software?
First up, you're probably thinking: "Why not just get all-in-one accounting and inventory management software?". In addition, many accounting solutions offer some form of inventory management. Well, my answer to you is: "Which is more important to you? Complete control over your inventory or convenience?".
As a business dealing with physical goods, I would say that inventory management figures high on your priority list followed by accounting and reporting requirements. Because if you can't get your inventory right then there's going to be very little of your business left to report on!
All-in-one accounting and inventory software trade powerful, deep features for convenience. Sure, it's nice to have to deal with one software package and one support center. But does it contain inventory management features that you're looking for? How much priority will be given to new features for inventory management over other general features?
We recommend that you use separate accounting and inventory management systems because each software will offer a best-of-breed solution. In fact, we wrote another blog post about web-based inventory management and the benefits for your business.
Accounting software with built-in inventory management features may be too lightweight for stock control. Likewise, inventory management software will have simple accounting features. But you will want to export financial records to a fully-featured accounting package for comprehensive business and management reporting.
---
Simple Accounting in EMERGE App
EMERGE App is an easy to use order, purchase, and inventory management system that works in any web browser. Consolidate all your customers, suppliers and products in one place. Get complete visibility on your sales orders as they work their way from quotation to fulfillment.
There are two main accounting modules in EMERGE App: Accounts Receivables and Accounts Payables. As you know these represent incoming payments and outgoing payments, respectively. The simplicity, however, of the accounting modules in EMERGE App hides more powerful features within each one.
---
1. Accounts Receivables Module
Accounts receivables are amounts that customers owe you. This is further broken down into Customer's Invoices, Receipts, Debit Notes, and Credit Notes.
Customer Invoices
Customer Invoices are generated from Sales Orders or Shipments in EMERGE App. This is a document asking your customer to nicely settle the amounts owed to you. It contains information such as customer details, supplier details, items sold, invoice amount, and the due date. They have a status of either Paid or Unpaid.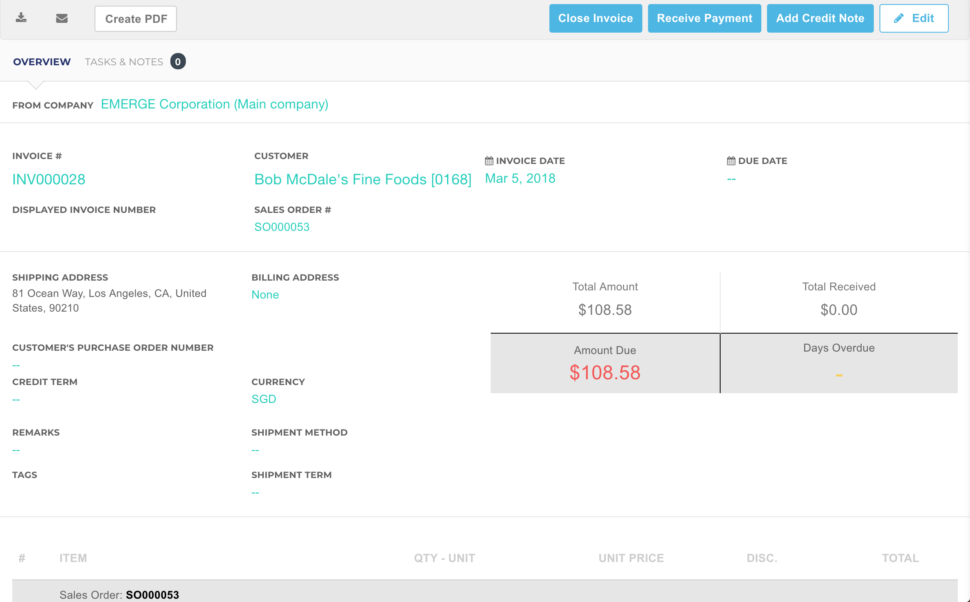 Customer Invoices created from a Sales Order have many methods of settlement. An invoice can be generated for everything in the Sales Order. Alternatively, you can issue an invoice and payment receipt together when an invoice is paid in full. Furthermore, you can do a partial or consolidated invoice. Finally, a deposit can also be created when a customer pays a deposit upfront.
Customer Receipts
Receipts are issued from amounts that have been paid towards an invoice. This is a document given to a customer as proof of receipt of payment. It typically contains the customer's details, the invoice involved, the amount paid as well as any amounts outstanding, and payment details such as the cheque number or telegraphic transfer number.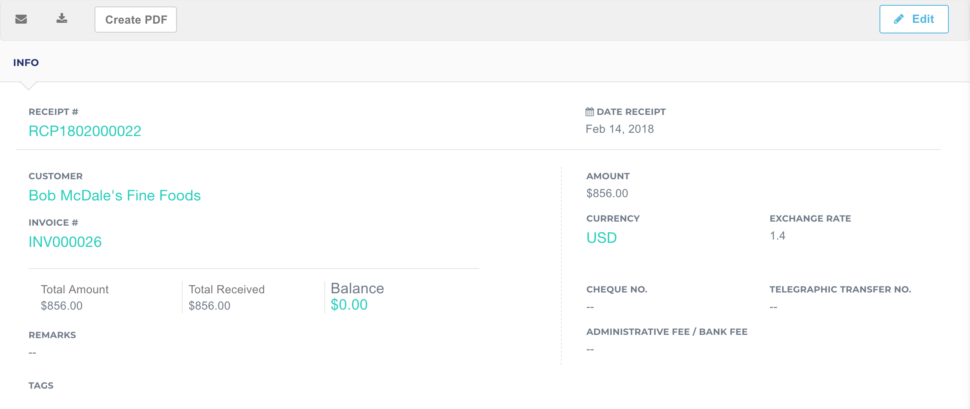 Debit & Credit Notes
Debit Notes and Credit Notes are used when goods are returned to you by a customer. The customer issues you a Debit Note when the goods are returned. You then issue a Credit Note to the customer when you have received the goods.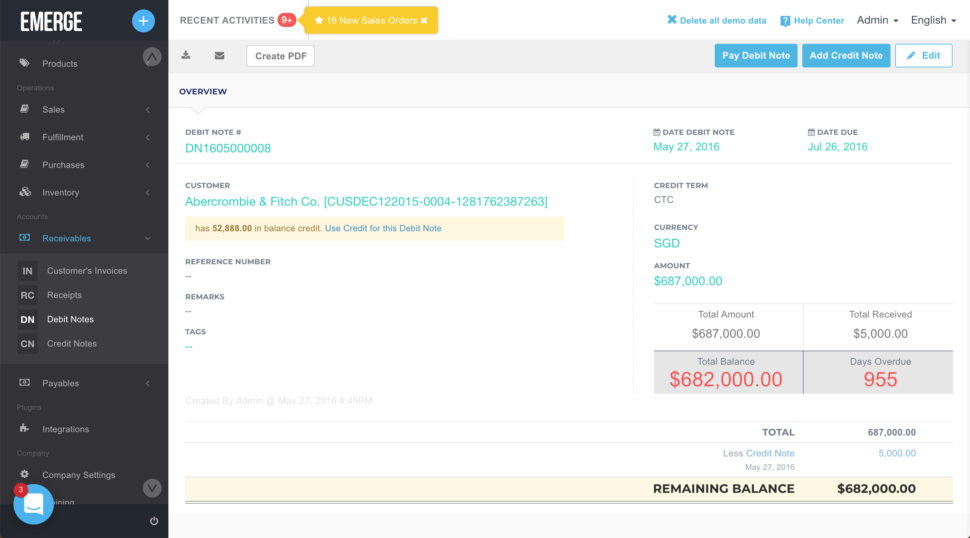 Debit Notes contain information such as the customer's details, credit terms, total amount, amounts received, outstanding balance, and the number of days overdue. As such, they can have a status of Paid, Unpaid or Partially Paid in EMERGE App.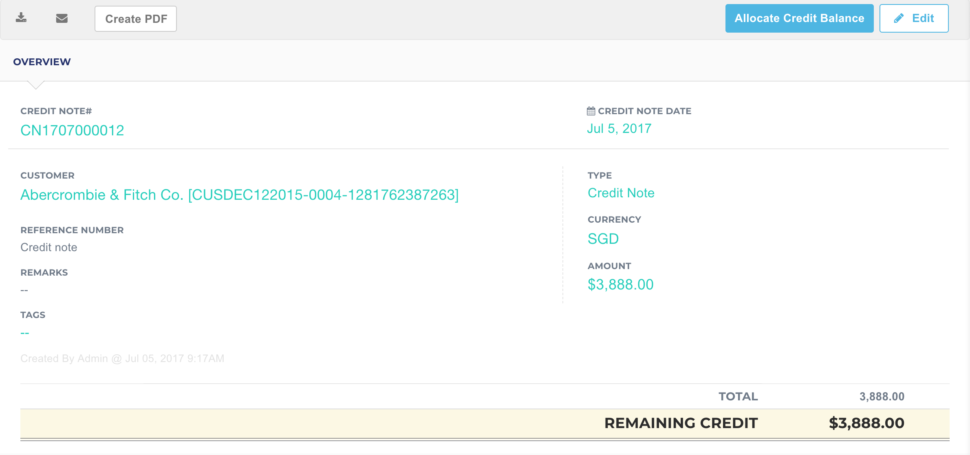 Similarly, Credit Notes contain less information as they are issued when returned goods are received. They contain the customer's details, credit note number, date and amount. They can be allocated to any outstanding invoices and Debit Notes that the customer has with you. The remaining credit balance will be automatically tracked.
---
re2. Accounts Payables Module
Accounts payables are amounts that you owe to suppliers. This is further divided into Supplier's Invoices and Credit Notes in EMERGE App.
Supplier's Invoices are generated from Purchase Orders. As such, they can be completely invoiced, partially invoiced, or consolidated. Supplier invoices contain the supplier's details, purchase order number involved, items purchased, due date, total amount, amounts paid, and the number of days overdue.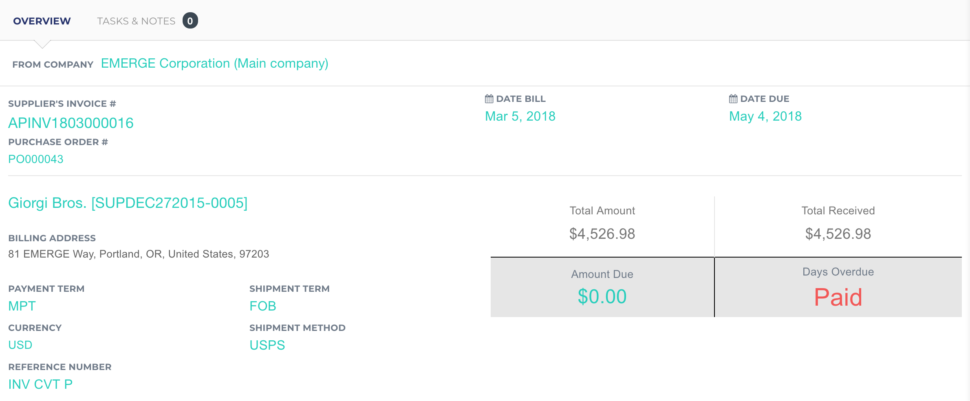 Credit Notes are created when you return goods back to a supplier. The supplier then issues you a Credit Note when they have received the returned goods. This reduces the amount owed to the supplier by the amount of the credit note.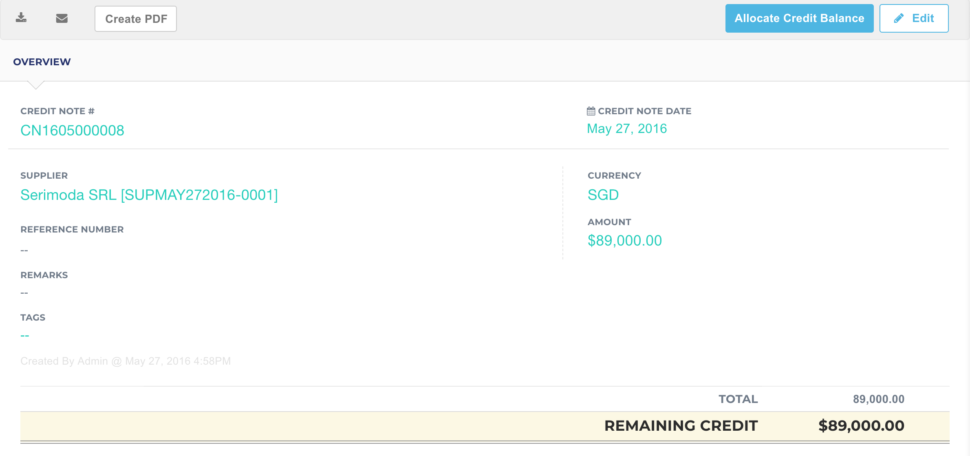 Here, credit notes contain information such as the supplier's details, credit note number, credit note date, total credit, and the remaining credit. Similar to credit notes for customers, you can allocate the credit amount to any outstanding invoices with the supplier. This will reduce the remaining credit by the amount of credit allocated.
Financial Reporting in EMERGE App
A final essential part of any financial software is reporting. And EMERGE App produces a variety of reports for accounting and management purposes:
Sales Report
Product Sales Report
Purchases Report
Fulfilment Report
Inventory Report
Statement of Account
You can explore how these reports are generated in the following video:
---
What is Xero?
Xero (pronounced as "zero") is cloud-based accounting software for small and medium-sized businesses. Originally from New Zealand, it has an enthusiastic user base in Australia, New Zealand, the United Kingdom, and South-East Asia. It is particularly popular with bookkeepers and small accounting firms that often bundle value-added services.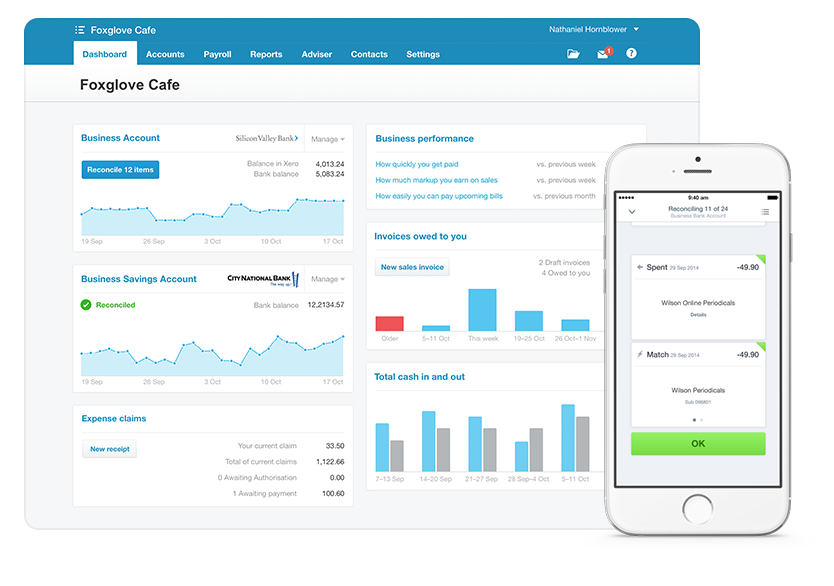 Xero stores all data in the cloud on a single unified ledger. This allows users to work in the same set of books regardless of location or operating system. Some features of Xero include automatic bank statement importing, invoicing, accounts payable, expense claims, fixed asset depreciation, purchase orders, and financial reporting.
Xero also offers a free API that enables customers and third-party software vendors, such as EMERGE App, to integrate external applications with Xero. To date, over 275 third-party software vendors have built Xero add-ons. Like EMERGE App, Xero also supports multiple tax rates and currencies. It also incorporates a payroll feature and a projects feature.
---
Why use EMERGE App and Xero for inventory management?
EMERGE App and Xero are very similar in many areas despite targeting different functions of a business. Both are geared towards small and medium-sized businesses. Each offers fully-featured software for an affordable monthly subscription. And both have attractive, user-friendly software interfaces so that you can get working straight away.
More importantly, both are real-time cloud-based software applications. This means you can work anywhere and on just about any device. The seamless integration between EMERGE App and Xero means that there is no double-entry of financial records. This saves time and removes any instance of human mistakes during data entry.
Using EMERGE App allows you to consolidate all your orders and purchases in one place. You can then export your invoices and receipts in a click to all the right accounts in Xero. Map your Chart of Accounts so that the right documents are exported to the right place.
Also, on-demand syncing means that you are in total control of what business data can be exported from EMERGE App. You can select your customer invoices and receipts and then push them to Xero. Alternatively, consolidate items from multiple purchase orders into a single supplier's invoice before exporting it.
---
How Do I Use EMERGE App and Xero?
Find The Xero Integration Module
Step 1: Click on Integrations and then click on the Integrate button for Xero.
Connect to Xero
Step 2: Click on the Connect to Xero button.
Enter an Account Name then click Connect.
Then login to your Xero account when prompted.
Allow Access for EMERGE App
Step 3: Click on the Allow access button to enable EMERGE App to share data with Xero.
Step 4: You'll arrive back at EMERGE App. Click OK at the successful integration screen to continue.
Map Your Chart Of Accounts
Step 5: Now, let's map the accounts for invoices and receipts. This is the financial data that EMERGE App shares with Xero.
At the Chart of Accounts tab, select the Xero account to map to EMERGE App.
In addition, you can now export landed and non-landed COGS of your products from EMERGE App to Xero, and map them to their respective accounts in the Chart of Accounts.
Once done, click Save.
Select And Export Your Documents
Step 6: Next, click on the Export to Xero tab. You will see a list of all available documents for export under the Documents tab.
Export a single document by clicking on the Export button next to it.
Export all or some documents by selecting them and clicking on the Export Item(s) button.
You can see the results of the exported data under the Success and Failure tabs.
Often, these will contain the description of the error and the steps you can take to resolve them.
More EMERGE App and Xero Tips
---
Handling transaction currency in Xero
Xero will need to contain the currency of the transactions exported by EMERGE App. You need to manually add the currencies of all your EMERGE App transactions in Xero. Otherwise there will be an error during the export if a currency does not exist in Xero.
For sales and purchase orders, Xero handles different currencies and converts the invoices pushed from EMERGE App.
---
How do I disconnect from Xero?
Just click on the Configuration tab and then click on the Disconnect button. Do note that disconnection will be immediate without any prompting.
Is data syncing one-way or both ways?
EMERGE App performs one-way sync with Xero. Rest assured that it does not import data from Xero.
When and how does syncing occur?
Syncing is done manually in the Export to Xero tab. Documents are queued and synced immediately and you will be notified of the export outcome with a pop-up window.
---
Conclusion
Small and medium-sized businesses have a lot of choices when it comes to business software. Do you go for a convenient all-in-one "ERP" solution with lackluster modules? Or is inventory management software with accounting features sufficient enough? Or how about accounting software with inventory management features? Pick one that suits your business focus best.
Otherwise, we suggest that you settle for best-of-breed software solutions that integrate with each other. This way you don't have to compromise on features ever. And you can be assured that each software solution will be supported and updated regularly with new features and bug fixes.