5 Reasons for Small Business Failure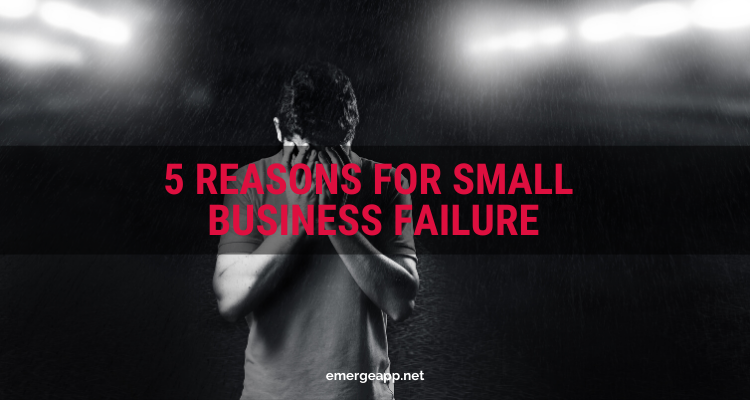 Introduction
Sustaining a Business is hard than starting one, and that's what every businessman will say to you.
Because it takes a lot more efforts to make a business thrive, and to reach it to a certain threshold level, at which it can be stable.
A business fails due to many factors that collectively damage the structure of a business and making it hard to recover.
Before that stage comes, you should really try hard to save your business from failing. There are some influential factors that could fail your business if you ignore them.
Let's have a look at them.
---
Reasons for Small Business Failure
1. Deficiency of Capital
Business is a struggle of investing money and working hard to get profits.
But some businessmen invest a lot of money on the initial days, making them cringe for money on later days. Some areas of business do need money on later, so if you don't have any, you're going to lose your business.
Great ideas need huge capital investment to make it possible.
There are going to be no return of investment in initial days, so you need some capital to make it last. Sometimes, a great entrepreneur starts good, but if the required capital is not there, he may end up in debts. There is very few chance of breaking even with the capital you put in at the start.
This is the point where most of the businesses fail.
How can you avoid it?
You must have an investor backing you up that believes in your idea and know that you're going to get big. Further, the venture capitalist should be aware of the expenses and know that money is going to flow in the start.
As a preventive measure, you should cut the extra expenses in the business, and if you have employees, cut their extra expenses. You should primary focus on breaking even on the investment in the initial days because making profit needs stability, which will come with time.
---
2. Not Competing
Some of the businessmen are so occupied by the idea of their own product that they fail to care about the competition.
There is no point in making a product that the competition already has, at a lower price that you tend to sell it for.
You should compete with your rivals on the basis of everything, from price to the quality, from stability to the reliability because a product is great only if customers adjust instantly to it. Competitors will have better ideas for product designing, management, and advertisement.
All in, you have to try to make your product better than your competitors as a whole.
Along with them, if necessary, provide them extra services along with the product.
One great example of this is Tesla motors. In order to get into the business, they first made a product whose performance is unmatchable, the provided free services and charge points throughout the country.
How can you avoid it?
You shouldn't entirely focus on your product only.
Study the market trends and see what customers want. You can test release your product and then welcome all your consumer feedbacks.
Compete with your rivals on every level.
You can try that making your product better than them as a start. Next thing is advertisements; blow your potential consumers with ads of your product so that they could know what you're selling.
---
3. Not Advertising
You're working on a great product and finally it is ready, but you need to let people know that you made that best product in the segment right?
So the next factor why businesses fail is to not advertise their product to get the customer base that could increase their sales.
In the end, it is sales only that are going to increase the revenue and making you break even with the capital invested.
Failing your product to make it reach the desired consumers could hurt your capital invested, and you may never get it back. Try to target niche customers who are definitely going to get influenced by your advertisements.
In today's world, everyone has advertisements, so it would be good for your business to have one.
How can you avoid it?
Hire a marketing team that could help in generating high-class influential advertisements. You shouldn't rely on only one type of marketing.
Do both offline and online way of marketing, because they both have their own set of users that could come by your product.
Hiring professionals is very good because they know their job, and definitely going to get you results. Your sales are will boost up and you may start generating profit soon.
---
4. Poor Business Model
Your business requires a model that can have a good use of cash inflow, and manage all the product demands without hurting reputation.
Business models are generally complex and require a professional to make them stable.
You need cash inflow in order to make these deals feasible. The only way to have that is boosting your sales. This is rather a simple explanation of a business model, but when factors like transportation, margins, and other factors add up, things become complex.
You business model must be stable and doesn't suffer due to the lack of skills to implement actions require a stable model. A model is a backbone of your business and requires a set of people who can deliver necessary actions at right time.
How can you avoid it?
Structure your model in a way that could optimize the spending, cut extra expenses and maximum the profit.
You can hire a team of professionals, discuss by having a meeting with your employees, and carefully analyzing all the influential parameters. You should be able to extract skill from every person who is working for you.
---
5. Product Lacks Value
This single parameter can fail your business before even starting.
If the product you're selling doesn't have a potential value that you must concentrate on making it better.
You should be in contact with customer needs as to how they want their product to be. Because it's not you to decide what customer wants, they're in charge of what they want to use.
You have to identify the needs and design the product according to that. Your products hold value only if the customer sees it as an essential commodity to have. You can increase the product value by designing it in a better way.
Because spending resources on the product that isn't valuable in the eye of the customer is never going to make your business a success.
How can you avoid it?
Do a complete market research before starting the business.
You should have your metrics right. Resources like market size ($10B market), potential growth YoY, potential number of users for early traction, competitors, competitor growth rate.
Once you are done with market research, gain initial traction via online marketing and validate your idea.
Validating with initial customers can take you long way.
Always keep adapting to the market. You need a set of visionaries that can add value to your product. You have to structure your model in order to prioritize the product value.
Conclusion
As you can see, small businesses fail for at least 5 reasons. Address capital, competition, advertising, business model, and product's value and you will avoid most of the common reasons for failure. Now, let's get back to work!