How To Build A Lasting Wholesale Partnership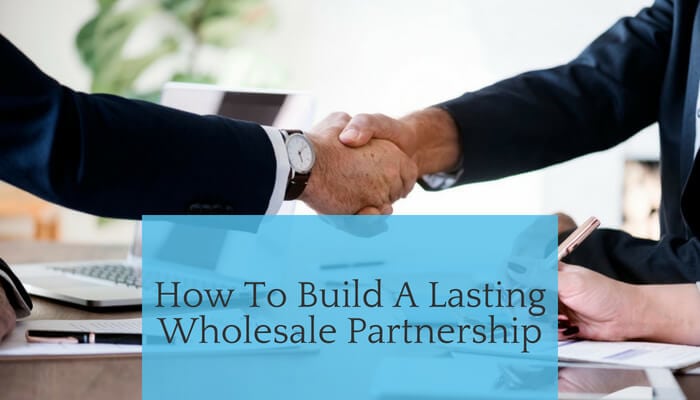 Wholesalers and distributors occupy a special place in the market for goods and products.
You could even say it's an almost enviable position. You buy goods directly from manufacturers and suppliers. And then you sell to your customers — retailers of all shapes and sizes. These retailers then sell to consumers — you and me.
Then, what's not to like about it?
Well, as the middleman, you're likely to be cut out of deals when retailers, or even consumers, wise up and buy directly from the factory. The rise of online stores and the Internet has helped to fuel this rise.
And it's very likely that you're dealing in huge quantities of highly commoditised products — think hardware fasteners, essential oils or cleaning products — so product differentiation means very little when your customers are obsessed with getting the "best" price.
Plus, your retail customers have choices, too. They're likely to shop around if you can't offer competitive wholesale pricing for bulk orders. Again, it's all too easy to find alternative wholesalers and distributors with B2B marketplaces.
So, what's a hardworking wholesaler and distributor to do when you face the risk of customers dropping you with a shake of their cellphone?
Well, it's time to start building up immeasurable goodwill and loyalty with your customers and convert them to a life-long (well, almost!) business partnership.
---
Count Me In! Where Do I Start?
The key is to differentiate yourself not by having unique or exclusive products, and definitely not by pricing. Going down this path with either of these two things will:
(a) Quickly attract the wrong type of customers; and
(b) Any advantage that you might have previously enjoyed can be easily replicated, copied or done better.
What you want to do is build a win-win partnership for you and your customer.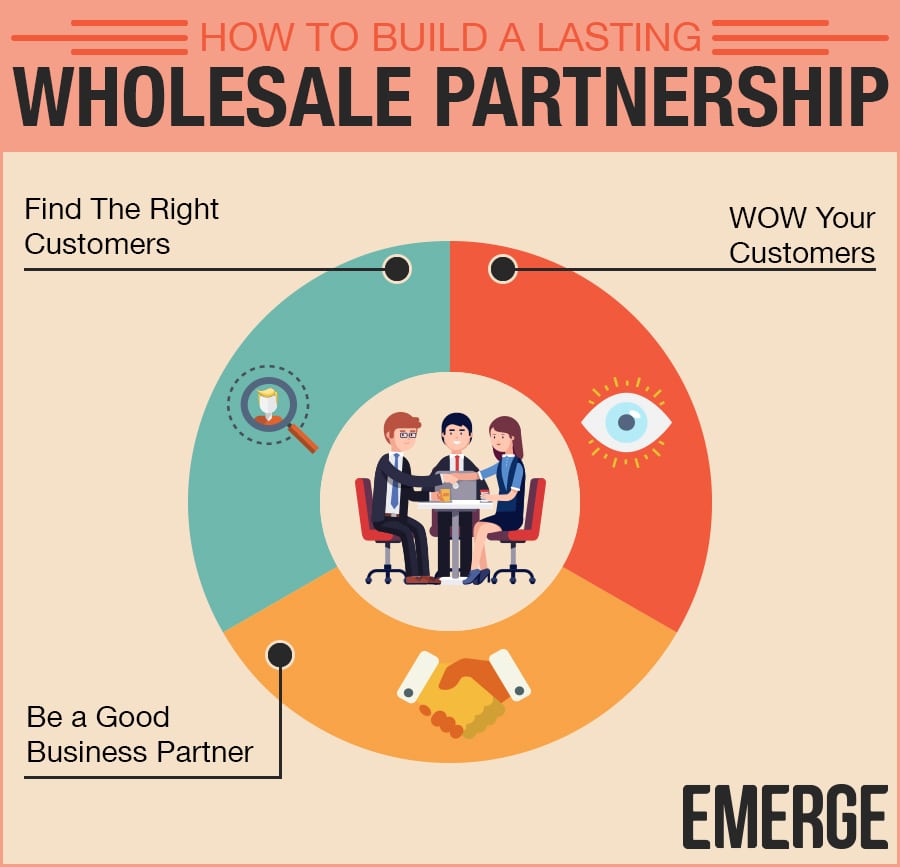 So, here is a 3-step way to build a sticky relationship with your customers so that it's harder, inconvenient or even inconceivable for them to switch wholesalers or distributors.
---
1. Find The Right Customers In The First Place
Let's start all the way in the very beginning. Getting regular repeat business from a loyal customer means finding or attracting the "right" customer type in the first place.
Think about the sort of customer that you DON'T want to deal with: tight-fisted, difficult, abusive, rude, inconsiderate or ungrateful. We all have horror stories of dealing with Customers From Hell.
In fact, trying to please Customers From Hell can take a hugely disproportionate bite of time in managing the daily operations of your business. Why spend 80% of your time dealing with difficult customers who make 20% of your customer base?
Avoid Price Wars
So, what you want to do is not to play the price-cutting game. Severe and frequent discounting can only do more harm than good for all the wholesalers and distributors in the industry. Only the customers benefit when wholesalers engage in a price war.
Price cutting will only encourage customers to shop around with little loyalty. So don't advertise that your prices are the lowest in the industry or that you will match competitors' prices.
Make Face-to-Face Contact
Let's start with the tried-and-true method of meeting future customers at trade shows and exhibitions. Print a couple of boxes of business cards and start shaking hands. You'll quickly size up potential customers in the first few minutes.
Most importantly, you'll ask yourself "Can I trust this person when doing business?". And "Is there going to be a win-win proposition for us? Or just a one-sided gain for them?".
Body language, verbal dialogue, and sincerity are all tell-tale signs to look out for when finding an ideal customer. Be sure to quickly mark notes on the back of their business cards immediately after you meet them: "Likes custom cars but dislikes water sports" could be a hint. Or how about "Wants organic cold-pressed oils. First press only."
Draw The Line For Acceptable Conduct
Once you start running with regular customers, you also need to lay down an acceptable code of conduct with dealing with rude or abusive customers. These customers need to know that they will be blacklisted from purchasing from your firm, and possibly others too in the industry if the word gets around.
You need to say: "Treat Us As You Would Like To Be Treated". This is an acceptable and minimum code of business etiquette.
What you don't want to do is to tolerate abusive behavior from customers for the sake of earning their orders. Do you really wish to lay down your values and what your company stands for in exchange for business from a rude customer?
Brush Up Your Company's Message
Next, your marketing and branding need to spell out what your company stands for. "Your Satisfaction Above and Beyond Our Scents" could be one. "We're Your Friends In The Meat Business" could be another one. Or how about "You Can Count On Us To Deliver Goodness Every Time, Any Time"?
Notice how there's no mention of prices or discounts? You don't want to go down that route remember. Instead, you need to emphasize customer satisfaction, service, support and partnership. Things can and will go wrong in the business relationship. How you resolve them is key to retaining regular customers.
Remember, you can always say no.
---
2. What Does It Take To Be A Good Business Partner?
How does a good business partner act?
Telling your newfound customers that you relish and appreciate their business means taking proactive steps to maintain the working relationship.
Mail Out A Welcome Kit
Just like onboarding for new employees in your company, you could also have a welcome kit for new customers.
It needn't be fancy or expensive but it needs to surprise them. Ship it out once they open a purchasing account with you.
It could be something inexpensive like an office coffee mug with your company logo emblazoned on it and with a motto like "Enjoy Your Cuppa With Our Wholesale Artisanal Coffee Beans".
This way you'll always get free advertising and mindshare as they go about working at their desks. They will subconsciously procure coffee beans from you!
Or it could be a mini sampler or swatches of all your products, shipped out in a custom box. This works if you're dealing with spices, fabrics or beauty products, for example.
Just like the coffee mug, your sampler box should be attractive enough to take a prime spot in their office and work like a mini-storefront to put your products right in front of your customer's faces at all times.
Make Things Easier For Them
Another way, beyond gift and sample giving, is making transactions effortless and painless for your customers. Ditch those spreadsheets, PDF and paper forms. Go with an online B2B platform such as EMERGE Cart.
Your retail customers need not call, message, fax or email their orders to you. These methods are painful and time wasting as a human being needs to enter them. And there will be data entry errors along the way.
A better method is to have your customers place their orders 24/7 from the comfort of their office or home, and in their own timezone.
They will add purchases to a shopping cart, just like any online retail website, check out with their cart and then have their sales orders appear magically in EMERGE App.
I'm sure your customers would love a frictionless purchasing experience from you. Make it easier for them to shop and purchase goods in their own time and own pace, and you have a competitive advantage that is hard to replicate or beat unless our competitor is also using EMERGE App!
Be Available At All Times
Finally, like good friends, you want to be there at every opportunity when things go wrong. It's not acceptable that you're uncontactable or away during the weekends at your house in the Hamptons.
A good business partner will have a business cell phone that's available 24/7, especially for international customers and suppliers. You will no doubt trust that your customers will not abuse the privilege of access by asking non-essential questions like colour availability during do-not-disturb hours.
However, the avenues to reach you via chat, email, SMS and phone calls is reassuring to a customer should they have an emergency or pressing enquiry. As a customer yourself, you want to make sure issues are settled promptly and action is taken when things go awry with orders.
If you are looking for best application tracking system, check out this blog.
---
3. WOW Your Customers At Every Opportunity
Your retail customers are no different from any other consumer in the world's market for goods and services. Regardless of culture or country, every merchant and business has ways to surprise and delight their customers.
It might be something as simple as slipping an extra (surplus) crate of onions with your order, or a little holiday hampers to bring some cheer to the office.
Only a business enjoying a monopolistic market position would be truly indifferent to these practices to put a smile on your customers' faces!
This Is How to WOW Customers
And you can probably guess by now that not all of these are confined to the business office.
Did the purchasing manager at one of your largest retail accounts suffer a recent bad spell of illness? Send them flowers, chocolates or a card. Or send them everything! Tell them that you wish them a speedy recovery and that you want to see them back at work soon.
Or perhaps another customer lost a couple of boxes from theft or damage in transit, leaving a gaping hole in their retail display? Courier replacement boxes FAST! And deal with the insurance nitty-gritty later. Or better still, drive and personally hand deliver those boxes yourself if they're in the same city.
How about a customer receiving a less than a stellar shipment of clothing with uneven and unraveling stitches and seams? WOWing your customer means offering them a credit note upfront, without being defensive, picking up the defective goods and then sorting it out with the manufacturer behind the scenes.
How Do I Get to the Level of WOW?
So, you must be thinking: what do I need to do to get to the WOW stage to surprise and delight my customers?
My quick answer is anything that doesn't involve you doing the same thing day-in, day-out in the office.
For example, did your customer get a hiccup in the recent shipment of products? If you satisfactorily and promptly resolved this in the office by making a few phone calls and then following with a few emails, then that's not enough.
That's probably the minimum level of customer support that your buyers expect anyway.
Taking this problem to the next level of WOW requires intuition and initiative. While you're not going to hand deliver every box or crate that is late or missing, what you will do is to ensure that a replacement is sent out, or that the missing order is tracked along with a new, confirmed delivery date and time.
Or to put it in another way, place yourself in the customer's shoes and think about how you would like the problem to be resolved FAST and what kind of conclusion and confirmation that you want.
Sometimes this requires you to think outside of the customer support box and, instead, think laterally and creatively. At times you will crawl out and put yourself on a branch to resolve things and make sure there is a happy, conclusive ending.
---
Conclusion
I've presented a three-part method to building a lasting wholesale business partnership here. Start by finding the right customers, to begin with. Then behave like a good business partner. Finally, surprise and delight them when things go wrong.
While you might not have a chance to WOW your customers at every opportunity, do seize the moment when you can! A favorable and positive review about you, online or offline, will do wonders for repeat business and attracting similar customers in the future.
So, where are you going to start in building your own long-term wholesale partnership?