Top 10 Social Media Management Tools for Small Business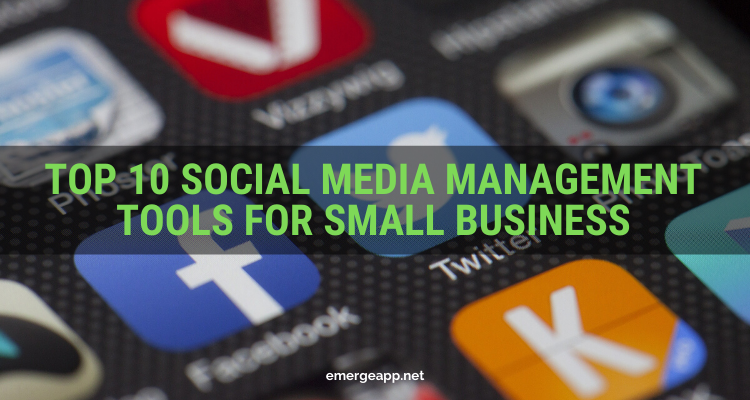 Introduction
Managing a small business could be a tough job because it is already in growing phase and you have to take care of more than one aspects of the business. 
One of the aspects that is crucial for your business is how you're presenting yourself on social media.
Obviously, it is not easy to take care of social media accounts while managing your business. To rescue you, there are many social media management tools that you should use to easily manage your accounts.
Posting to your social media one by one is a problem, also managing comments, reach and messages could be a problem.
Moreover, you can't research properly as to how you should better interact with all your followers. These social media management tools are a must for small business nowadays.
---
Best Social Media Management Tools for Small Business
1. Buffer
This is the best social media management tools currently available, and in next few lines, you will come to know why.
It can post to Twitter, Facebook, LinkedIn, Google+ and Instagram.
You can schedule your posts and buffer automatically posts when the fans and followers are most likely to see your posts and observe you.
There is a feature called buffer queue, you can add the posts and decide which network you want it to get posted. It will queue your posts and next time you come there, they will get posted. You can also post it right away.
The tool can be of great help if linked to other tools like IFTTT (if this then that), it also has android and iOS apps. So, in a nutshell, this a tool every small business should look for.
---
2. IFTTT
IFTTT is a service, where they give access to certain apps, selected by you, to manage your work on social media easily.
The set of apps is really useful in a number of cases, like If you uploaded a photo, the app will automatically save it to your drop box.
These apps are future of social media management. The best part is you can select the apps according to your needs.
Suppose you have to make recipes, all you have to do is make notes, and organize. It is really easy in IFTTT to work and all the apps are good to go. You have to sign up to use them apps and I am sure you're going to enjoy working with it.
---
3. Hootsuite
It's a complete dashboard to all your needs. It has the most advanced features present in all the management tools currently on the internet.
You can track conversations, the content of other people, statistics, schedule posts through the dashboard based user interface. The user interface is easy to run and that's what makes it popular among all.
It is also compatible with mobile traffic so you don't have to worry about it.
Hootsuite offers pro, enterprise and free version of the dashboard. It recently has introduced an auto-scheduling feature, which automatically posts the content by researching the best time to do so.
You can also integrate google analytics and of course Facebook in it. This is a full solution to all your social media management tool needs.
---
4. Social Flow
It is a business model that is primarily made to check all your social media management trends, posts, analytics.
You can check your posts, other people's posts, optimize your posting times on the factor of reach. It will help you to increase your per customer revenue.
Most of the social media management tools can't be used for professional work. They are only for a single or small team. But Social Flow takes it to another level. National Geographic, The economist, Mashable and The Washington post use Social Flow for managing all their social media management.
The tool has everything you need it, from statistics to engagement of the post.
They also have social signals which tell you whether to consider a published tweet, posts or an article on social media for the purpose of marketing.
If you have a company that's growing and want to take it to next level, this is the tool you should consider.
---
5. SocialOomph
Socialoomph is a simple web-based provider of paid and free tools which can further enhance your social media managing techniques.
You can use it for Facebook, Twitter, LinkedIn, Plurk and also for your blog.
All these websites are extremely easy to manage due to its simple yet advanced design.
On twitter, it gives you features like tweets, tracking keyword and stats, viewing mentions and retweets stats, DM inbox cleanup, auto-follow and auto-DM features. These features are very helpful for a small business. The same features are available for facebook and other platforms.
It is a powerful way to enhance your social media reach and does reduce your work of managing all the accounts at once. If you're new in business, you can try this platform.
---
6. Agora Pulse
Hootsuite and buffer come on the high end of the budget, but if you want a cheap tool that does the same work as both, you should really consider this tool.
It is a powerful and dynamic tool available in the market.
May entrepreneurs rated this tool as the top rated due to the flexibility in price while delivering the same work.
It can post on all social media platforms, schedule posts, and does all the things that you could think of.
You can see the stats of your posts, as well as your competitors'.  It also highlights the dark posts with comments on twitter and facebook, which you can easily respond to.
---
7. Sprout Social
Sprout social is popular among small business because it provides an easy interface, advanced functions yet have a simple user interface.
You can check your media trends on Facebook, twitter, Google+, Instagram and LinkedIn.
You can create multiple accounts of your team members, and it all charges the same amount, that way you can manage the social media for different people. This obviously going to make your work easy.
---
8. Commun.it
Commun.it is a Twitter tool that is a favorite among big brands but is extremely valuable for smaller businesses as well.
It's most important feature is the ability to show you whom to follow and unfollow. It lists users into three groups: Influencers, supporters and Engaged Members, based on a variety of factors — this enables you to target your audience more efficiently.
The core features are free, but the Pro plan is reasonably priced & it gives you access to the full reporting features, as well as unlimited monitor/lead items, engaged members and custom groups for up to 4 Twitter accounts.
In case it helps, here's the list of actions you can complete using Commun.it in your daily morning session:
Reply to all your Twitter mentions and replies
Retweet all interesting retweets (sometimes using Buffer to schedule them)
Send a "thank you" tweet to your valuable members, influencers, supporters, and engaged members
Check recent followers list and reciprocate if relevant- thank them.
Monitor unfollow list and unfollow any that are not part of my community
Look at "monitor engagement" section for anyone mentioning my business name or linking to my website. Reply to any of these.
Review "discover new leads section" and follow and interact with any new and relevant ones.
---
9. Canva
Though Canva isn't a social media management tool, its an essential tool for small business.
With social media, visuals are a great way to grab your user's attention.
Social media managers for small businesses rarely have enough time to create detailed visuals — this is where Canva comes in.
Canva is the easiest way to design beautiful images to go along with your social media posts.
The tool provides features that make it easy to turn ideas into visuals. You can create images with quotes, conversation bubbles, custom icons, and stickers.
---
10. ManageFlitter
As you grow your social presence on Twitter, it is very essential to keep track of your followers, your reach and analytics.
ManageFlitter has numerous features, including PowerPost — which shows you the best time to post your Tweets for maximum reach.
ManageFlitter's Search feature can come handy.
It's divided into three sub-categories: Account Search, Tweet Search and Search Your Account.
Account Search looks for users with names or keywords that you provide, Tweet Search looks for tweets about topics you specify and Search Your Account limits the results from within your account.
ManageFlitter also provides you with free analytics to make sure your campaigns are getting the desired engagement.
---
Conclusion
These different social media management tools for small businesses are worth every cent you are going to spend.
If you're a small business and want to manage your social media then you should go for 'buffer' or 'HootSuite' because you can easily integrate IFTTT, which can further enhance both the tool.
You can consider other tools which are a whole package since the idea mentioned above takes a lot of investment.