5 Biggest Retailers Bankruptcies — What Did You Learn?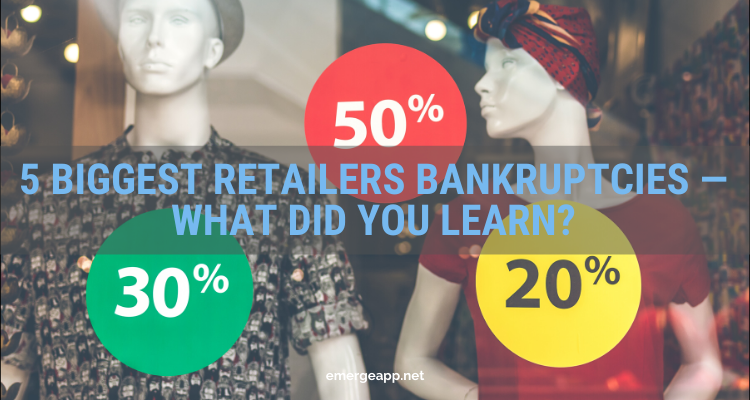 Introduction
Bankruptcy is a state when a company isn't able to clear or not in a position to clear all its debts.
There are many companies that declare bankruptcy every year, and only half of them survive by proposing a plan that could actually work for them. And the other half companies just disappear.
This is the harsh reality of the corporate world; if you're not able to come out of your bankruptcy, you have to liquidate everything, or maybe just sell your assets and pay back all the equity holders.
These companies show us that innovation, constant change according to the economy, and increasing sales are the keys to running a successful retailing business.
Bankrupt retailers give us good lessons to learn that how you should avoid bankruptcy.
Let's analyze some bankrupt retailers, what they did wrong and what you should learn from them.
---
Biggest Retail Bankruptcies – Lessons from their failure
1. Borders
The retailing store was founded in 1971, and primarily focused on books.
During their peak business time, they had about 1100+ stores and were second biggest retailers. Due to the good revenues coming from this retail chain, Kmart bought it for 190 millions.
They also bought Waldenbooks and started to run two companies together. The merger between two companies didn't work out planned. Many of the primary employees left, and they struggled to get going.
After that, when competitor Barnes & Noble started to steal market share, then Kmart changed the name into Borders Group. Slowly the sales begin to boost, and the group was generating revenue in later 1990s.
E-commerce Beckons…
Then in 2001 they thought of investing into E-commerce sector and joined Amazon as a stock provider for their online portal.
But soon due to not a satisfactory response from consumers, they backed out.
Now Amazon started to gain trust through online retailing, and people were going biased towards online shopping. Amazon becomes direct competition to the group, and then we all know how Amazon emerged as an online retailer.
In 2009 they filed for bankruptcy knowing that the stores were closing and they don't have enough cash inflow to sustain. At last in July 2011, Barnes & Noble bought the remaining assets in 13.9 millions.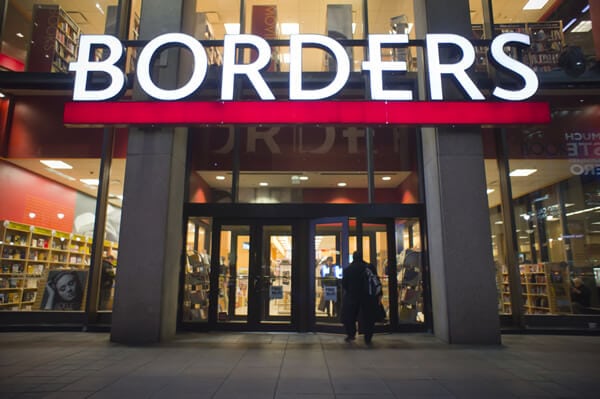 What went wrong?
The primary cause for Borders to declare bankruptcy wasn't declining sales, but ignorant to know that they require change and should move their business online, rather than dealing with Amazon.
Also, if they did a deal with Amazon, they should have been a little patience and guessed the age of E-books is coming.
The ignorance of not acting according to the changing trend is what made them bankrupt. They should have invested in more marketing strategies and evaluated the power of the internet.
What did you learn?
There are a lot of things that you could learn from this bankruptcy incident.
First of all, you should never decline your share of the market by not concentrating on business. Your primary focus should be business, and how the trends are changing
Second of all, you should be patient if you have made and invested in new things. Sales take some time to get boosted up. Borders didn't wait Amazon sales to go up when they were providing them books.
Third, they didn't think of innovating something new, like Amazon did with Kindle. They thought you can go the traditional way in this digital world.
---
2. Mervyn's
It was a midrange departmental store founded in 1949 and sold apparels, housewares, groceries and other department good that you generally find.
They were having 266 stores in 14 states by the end of 2004.
Everything was going great; people were going to their stores for regular stuff. However, some analysts consider that the growth was stagnant since they were sold to Dayton-Hudson, a departmental store giant, for $300 million in 1978.
The problem was the company who acquired Mervyn's also has another chain of departmental stores named as Target.
The company opened very fewer stores of Mervyn's over the years, which declined the sales and impact on the people.
Basically, they did a lot of work on Target, rather than Mervyn's. This constant lack of innovation and investment led down the conditions of the stores.
Efforts came too late…
The father company named changed its name to Target Corporation, and sold the Mervyn's to three companies, for 1.2 billion dollars.
These three companies were Cerberus Capital Management, Sun Capital Partners, and Lubert-Adler. They categorized the company into two units, real estate, and retail.
Mervyn's tried to maximize its real estate holdings, which increased the rent, and ultimately the fall of Mervyn's started. Mervyn's bought comparatively more real estate than it could sell or rent.
When the financial crisis of 2008 hit it, they fell miserably, and finally liquidated the company.
Investigations say that three companies purposely destroyed Mervyn's to earn huge money of $400 million, by selling the department store buildings, assets, renting up spaces. This cost the company about 800 million dollars.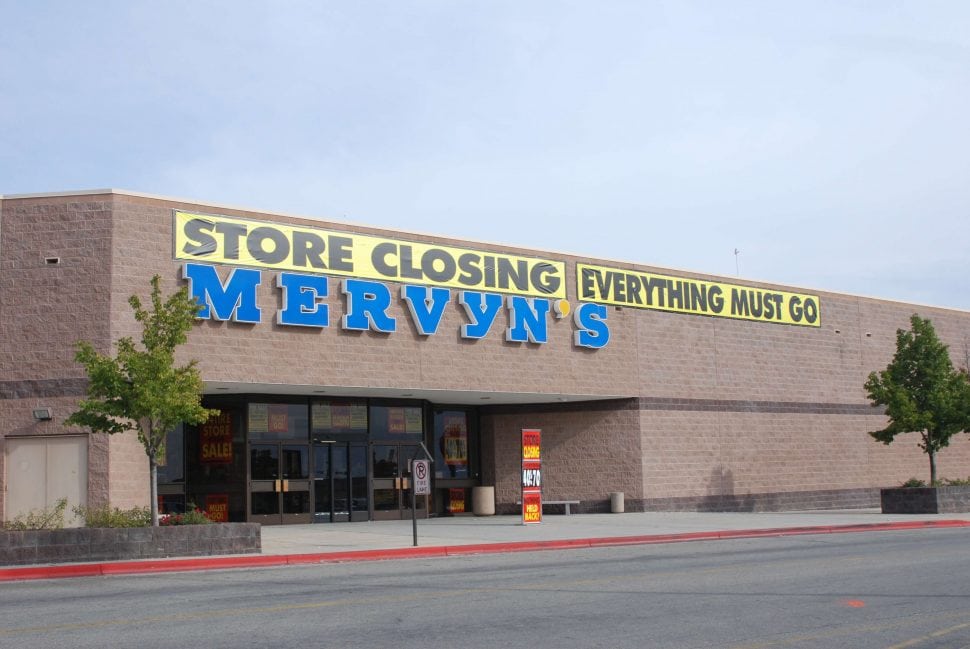 What went wrong?
During initial acquisition, the father company failed to grow the name. This single handily destroyed the image and reputation of the name. They failed to make the company grow and invested very less than they should have.
After that, the three companies failed to realize that real estate business is a risky one, you don't push already unstable company down that road. They did, and bought assets more than they could maintain, and loaned themselves.
The final nail in the coffin was hit by Great depression, which not only this but liquidated many other companies.
What did you learn?
If you buy a new company or begin a new venture, don't forget it after some time. Neglecting the need for investment in a company is the biggest loss, and it is not recoverable because the brand loses its reputation.
Additionally, never buy things more than you could pay.
You should always remain in your territory and only invest in other things if your parent company is stable enough. You should be focused enough on the company, and try to solve every problem that arises.
---
3. KB Toys
At its career peak, it was the second largest retailer of toys in the USA.
No one could ever guess that this company is going to fail. Founded in 1922, this company made it really big in the 1900s, having about 1300 mall-based stores, in 50 states. The business was running good, and revenue was generated.
When Walmart and Kmart started to get their sales and grew up at faster rates, KB Toys begin to lose their customers because people weren't into malls anymore, and footfall decreased. The sales first become stagnant, and ultimately started to decrease.
A New Investor…
Bain Capital bought KB Toys, and instead of making things right, they used the money of the company to recapitalize themselves. This further decreased the inflow of revenue. And in 2004, they filed for bankruptcy.
When bought by Prentice Capital Management, after a year, from Bain, things got pretty good.
The company started to make some revenue due to solid sales and marketing plans. The company though was still in recovering stage, but then in 2008, the great recession hit the company like a cyclone, and rest is history.
They liquidated in 2009 after struggling a lot/ the infrastructure is managed by the competitor Toys 'R' Us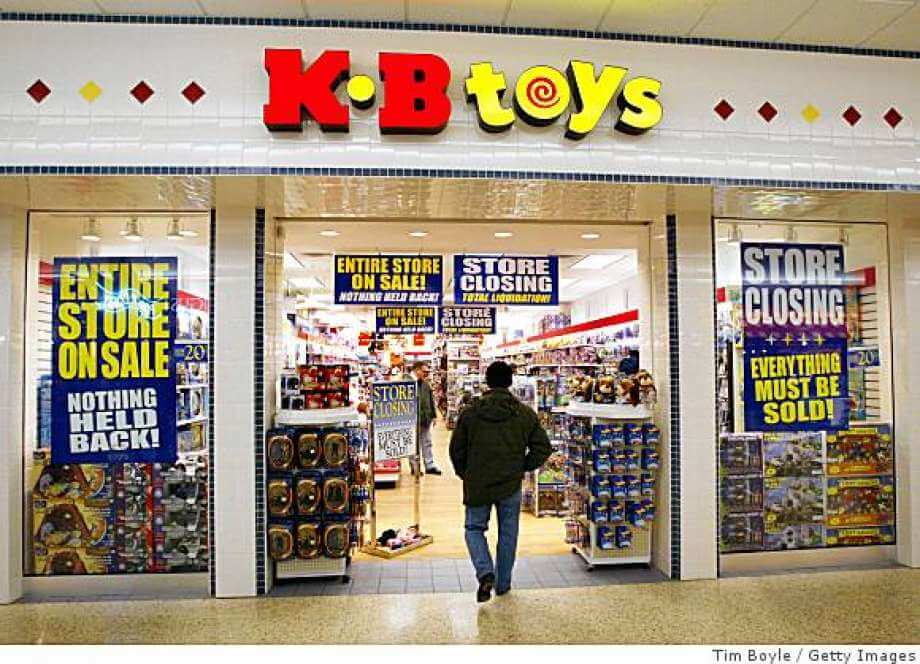 What went wrong?
They didn't do right things at right time. When they had a good amount of sales, they should have moved from malls to individual stores of their own.
But they instead were dependent on malls, and their infrastructure for the retailing; having your own infrastructure for retailing matters in long run and helps in increasing the assets.
The acquisition by Bain Capital was purely for cash, the management should have realized that the company is not going into good hands, or Bain Capital didn't care enough to make the company a profit generator.
What did you learn?
Sometimes greatest of companies fail due to lack of vision, and what should they do at the right time.
KB Toys didn't innovate enough and didn't try hard to move their business where they were accessible. They should have found stores with good places. Further, they could have started an online business website for sales.
A company survives purely on the basis of customers, and they didn't do anything significant enough to catch them.
---
4. Fashion Bug
The store was a good room filled trendy clothes for plus sizes.
They had everything a cloth store should have, and selling goods at lower prices than most of the brands. People instantly connected with the idea of the store and everything was going okay. Founded in 1960 they had 1000 stores till 2006.
The 1990s, when the competition increased due to a revolution in the sector, costs were cut, but the brand still managed to survive because of the reputation and customer engagement.
After acquisition by Ascena Retail Group, they really didn't pay the needed attention to the company; rather focused their resources and attention to the sister company Lane Bryant.
The company needed a solid plan to survive, because clothing is a sector that is unstable, and you need to see the trends and focus on how you can increase sales. The last store was closed in 2013, and it became a legacy since then.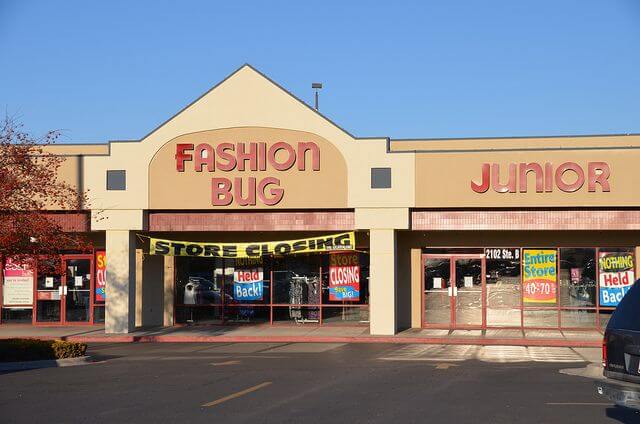 What went wrong?
When they were in the trends, they should have expanded the stores more and cut the competition by branding themselves.
The main failure of the company was due to ignorance of parent company. They failed to realize the potential in it.
What did you learn?
It doesn't matter if you're good at selling your product, if you're making changes according to the market, cutting costs, opting better plan to maximize profits, you may end up like this.
Fashion bud failed to generate profits in cut-throat competition due to lack of engagement of customers like it was earlier. You should know how to survive in the tough competition.
---
5. Radio shack
Radio Shack is a big name to start, they sold electronics, audio systems, and every trendy gadget that hit the market back in 1921.
They made huge profits and managed to open 4000 stores in the country. At one time, they sold the most number of computers back when they were new gadgets in later 1980s. Ultimately, they did everything right a electronic retailer should.
But when digital era hit Radio Shack, the people started buying phones through other means. iPhone became a great hit, which was exclusively sold by Apple.
They Missed the Mobile Boom…
Roughly about 50% of the sales coming from cell phones, Radio Shack lost the payments. Then they had management issues internally, struggling to survive from 2004-15.
The company was declining itself, but it was a very slow process, so took quite a long time for management to realize that this company is going to fall.
In 2015, Radio Shack declared bankruptcy due to insufficient resources to sustain. But at the end of 2015, Standard General bought it, and they worked hard enough to make it start again. Now the company is surviving on its own.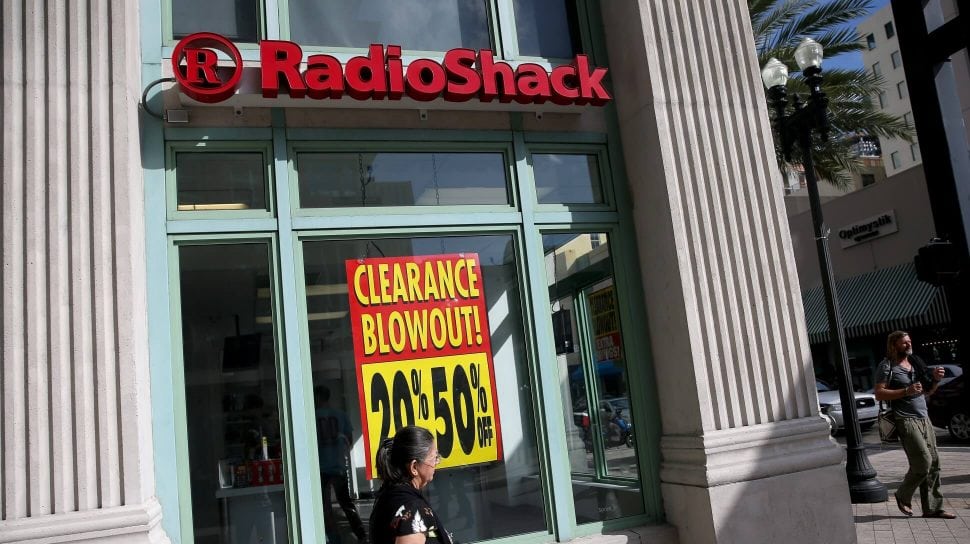 What went wrong?
The trend changed from buying cell phones from store to other means.
They didn't change according to the trend. They failed to realize the importance of change in trend.
Also, people were not into cellphones, since smartphones were there, and companies exclusively selling them through their stores only, radio shack needed to work on some better strategy. Though after the acquisition, they are doing fairly good and surviving somehow.
What did you learn?
This is the only company that after bankruptcy, still is managing to survive through struggles.
You can learn that every company hits low bottom, but it is about how hard you try to keep it alive.
In this case, they restructured themselves and somehow kept the stores open.
Now they're generating revenue, and maybe they're more sensitive to the market change, which is a good thing to survive in this competition.