9 Best B2B Marketplaces in India that Can Help You Grow Your Business
B2B marketplaces in India still remain at times opaque and vague, and it can be hard to find the best deals online or even offline.
Here's our attempt at creating a comprehensive list of online B2B marketplaces for the savvy marketer or business looking to get the best deal. We'll try our best to keep this list updated as often and as accurate as possible.
These marketplaces do offer wholesale rates and plentiful of products both domestic and imported, so we guarantee that you'll be spoilt for choice.
Best B2B Marketplaces in India: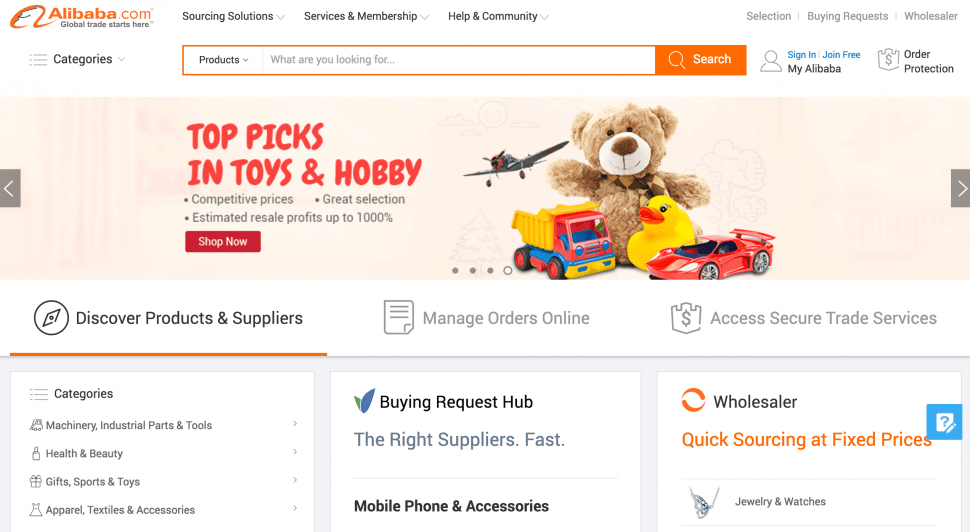 Launched in 1999, Alibaba.com is the leading platform for global wholesale trade. Alibaba.com brings you hundreds of millions of products in over 40 major categories, including consumer electronics, machinery and apparel.
It's the goto platform for cross-border trade of goods and helps small/medium businesses worldwide expand to overseas markets.
Alibaba serves more than 18 million buyers and sellers from more than 240 countries and regions, showcases products ranging from raw materials to finished goods in more than 40 industry categories.
If you are a seller, you can display up to 50 products completely free of cost or if you get the Gold membership you get a really nice mini-site to display unlimited products or services. If you are a buyer, post what you need in a 'Request for Quote' and let sellers come to you.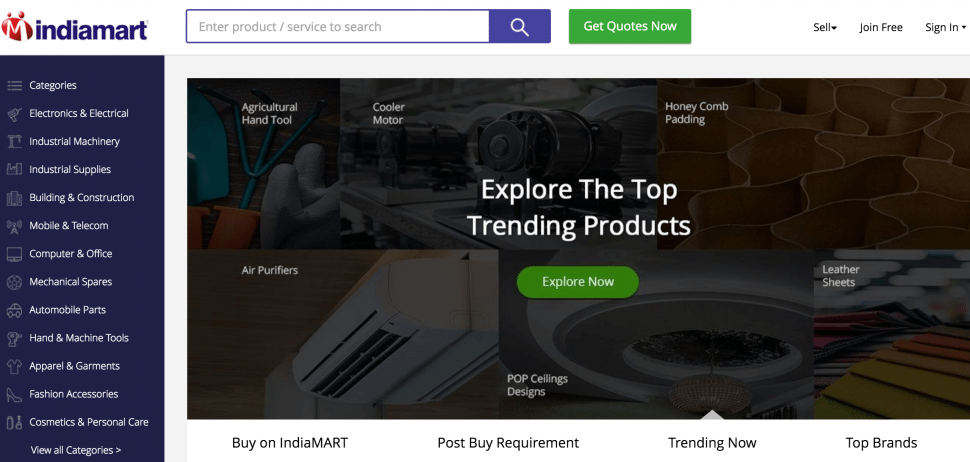 Founded in 1996, IndiaMART is India's one of the largest online marketplace, connecting buyers with suppliers. The online channel focuses on providing a platform to SMEs, large enterprises as well as individuals.
Approximately 1.5 million suppliers registered in this portal and generating business from over 10 million buyers.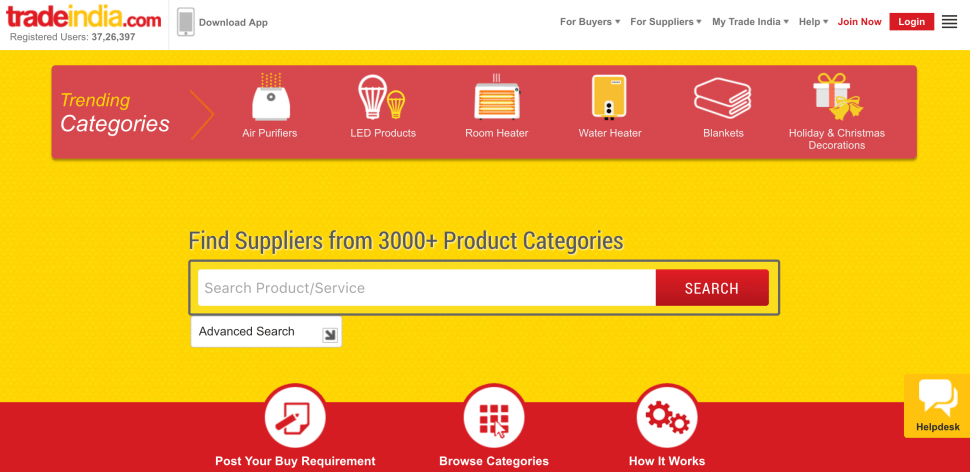 India's one of the largest online B2B e-commercial center, offering on the web business listing and yellow pages of Indian and Foreign manufacturers, suppliers, exporters, importers & service providers
Tradeindia is maintained and promoted by INFOCOM NETWORK LTD. TradeIndia is an ideal forum for buyers and sellers across the globe to interact and conduct business smoothly and effectively.
It has 37,26,397 registered users and product catalogs under 2,215 different product categories and sub-categories. It receives around  20.5 million hits per month.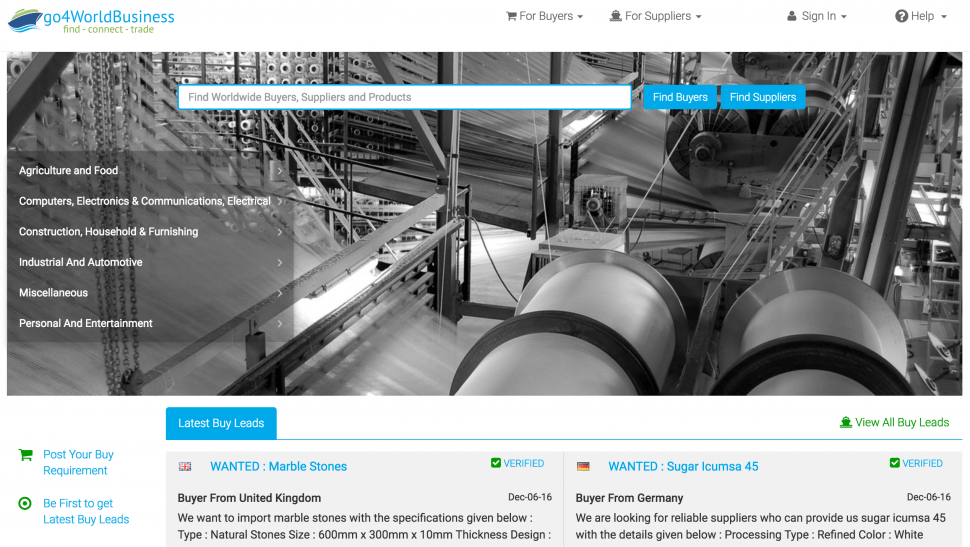 go4WorldBusiness.com is an online B2B marketplace for global exporters & importers.
go4WorldBusiness.Com is one of the 114 trade portals, all of which are owned and operated by Wyzen Systems Pvt. Ltd, a company founded in 1997 and based in New Delhi, India.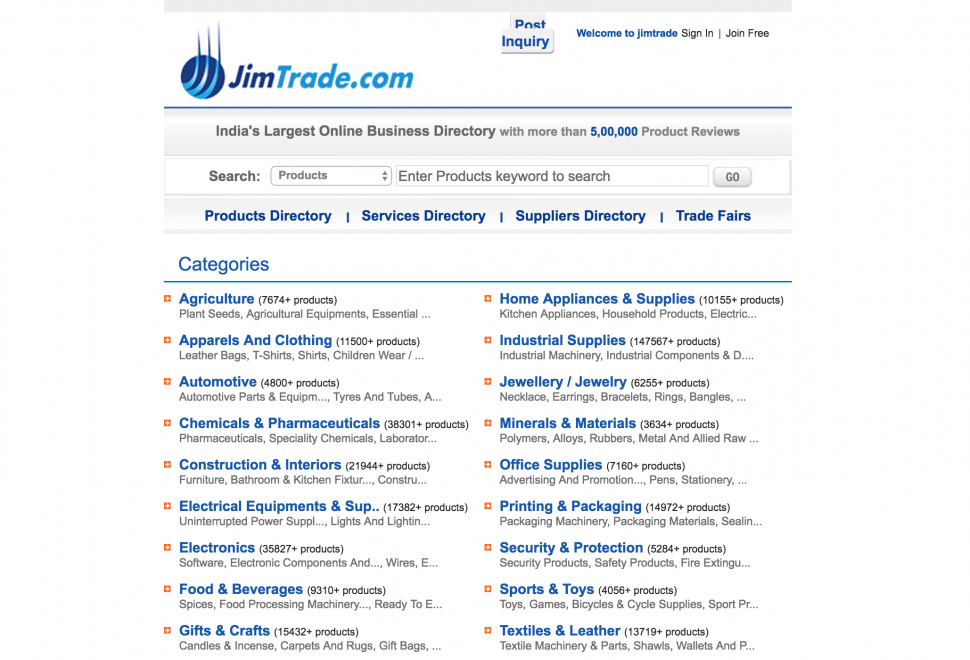 JimTrade is another Indian Business Directory featuring Indian suppliers directory, manufacturers and products directory, Trade Fairs from India.
JimTrade provides the complete and updated information on Indian products and suppliers for buyers. JimTrade is the number one destination for buyers to source Indian products and for Indian sellers to find trade opportunities and promote their businesses online.
It has information of more than 1,50,000 Indian suppliers and products. JimTrade has thousands of registered buyers who access this information daily.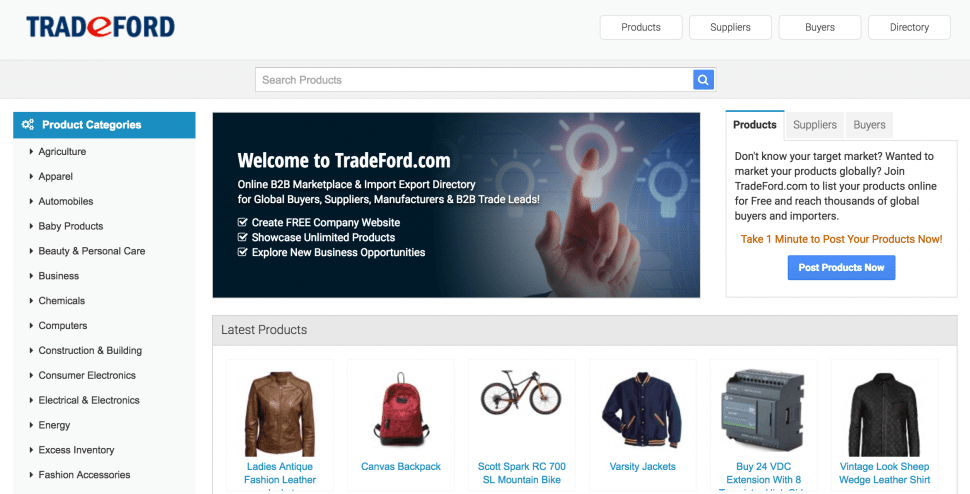 Is one of the leading global B2B marketplace for global Buyers, Suppliers and Manufacturers. It creates free company websites, show case unlimited products.
TradeFord's extensive database of quality buyers and suppliers covering all major industries starting from Apparel, Fashion, Chemicals, Construction, Electronics, Furniture, Food & Beverages, Health & Beauty, Machinery, Transporation and many more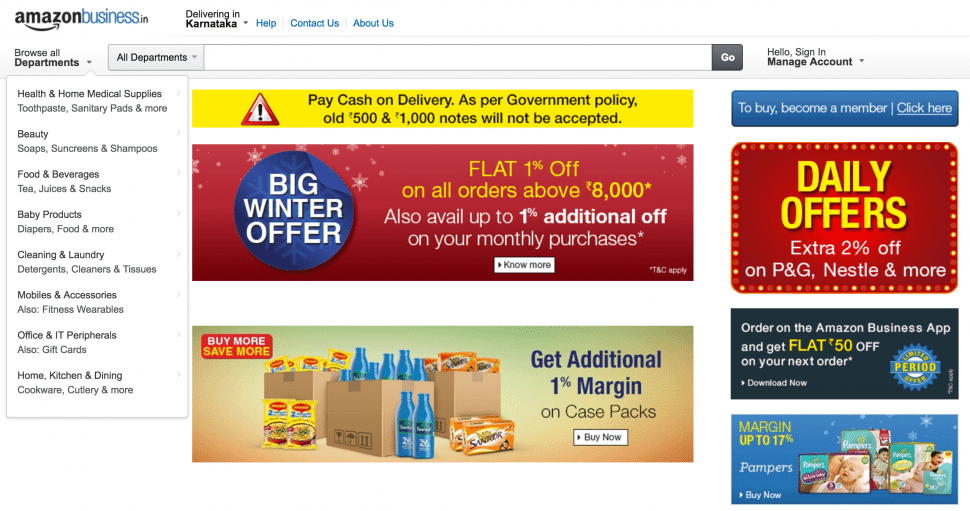 Taking advantage of the unlimited FDI provision for B2B segment in India, Amazon has recently (2015) launched their dedicated portal: AmazonBusiness.in for small business owners and traders in India.
Amazon is currently targeting small offices, entrepreneurs, department stores, kirana stores, drugstores, clinics, hospitals, hotels, and restaurants.
Currently, Amazon supports targeted niches like Office Products & Stationery, Cleaning & Housekeeping Supplies, Bed & Bath, Kitchen & Dining, Health & Personal Care, and Food & Beverages. Amazon is claiming that they are listing thousands of products across these categories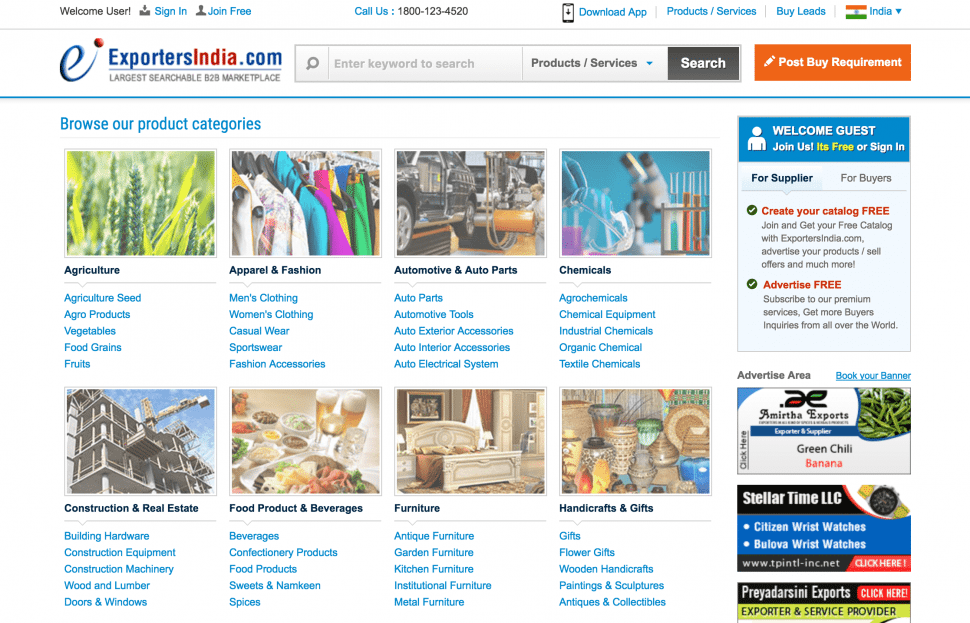 Exporters India is one of India's largest searchable B2B marketplace and Exporters Directory that connects Manufacturers, Exporters, Suppliers and Buyers.
ExportersIndia.com, which is launched in 1997, is the home for countless products and businesses across the globe.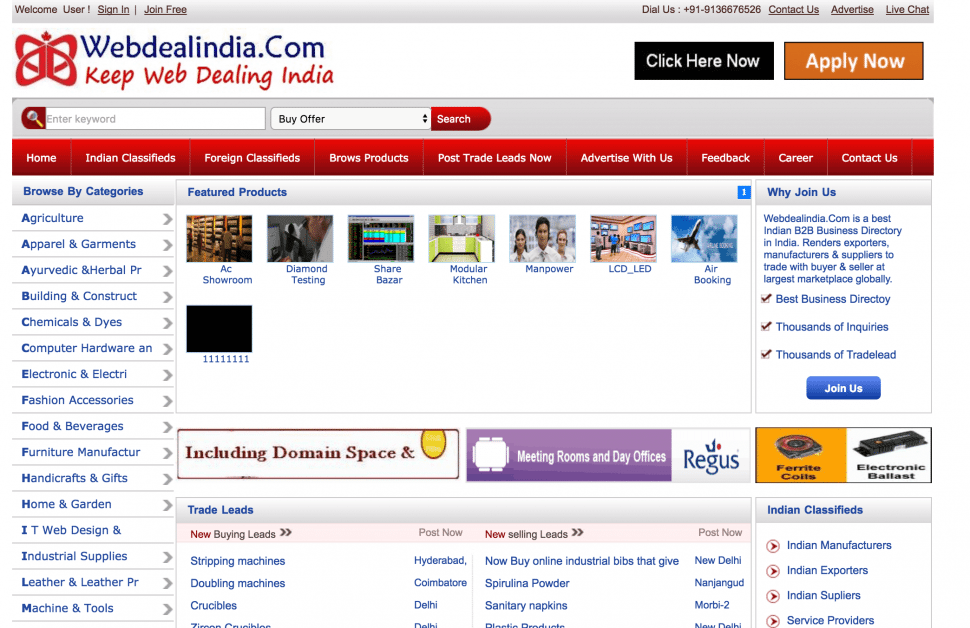 The portal is designed to foray a uniquely ideated B2B and B2C market place, where the buyers can choose the products from a colossal inventory, take the smartly packed wholesale offers, interact with the stores and above all, pay online.
Conclusion:
Although, this is not an exhaustive list but these are one of the best and trustworthy sites to engage in business.
Let's grow your business!