How to write Wholesale Terms and Conditions (Template Included)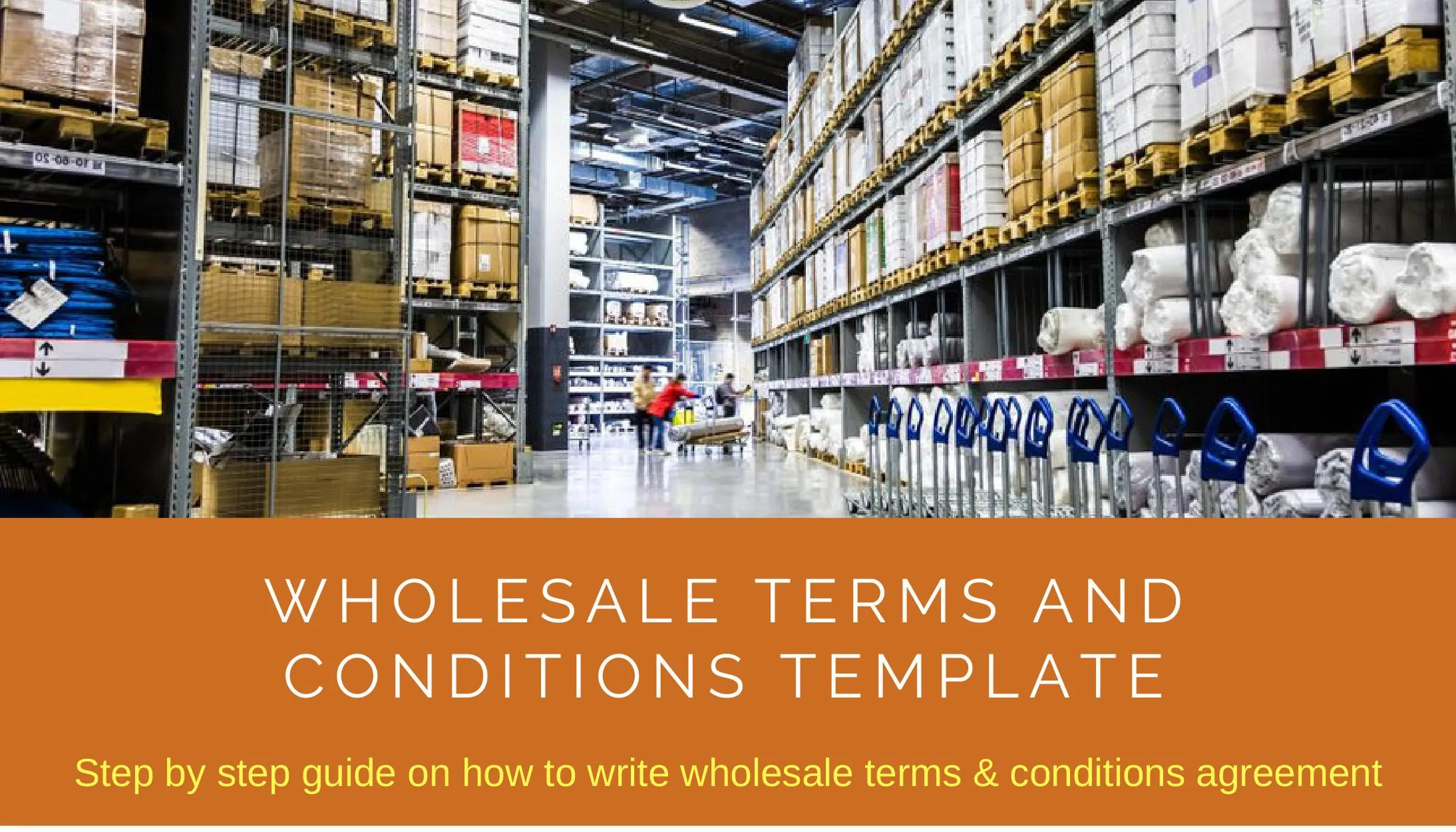 When you're business is growing and you are scaling the business, it's important to present yourself and your business in a professional manner. It's the best way to attract top retailers. Start things off right by using this standard wholesale terms and conditions form.
Download wholesale terms and conditions template

Here's the ready to use download link.
---
Step-by-Step Guide on how to write a Wholesale Terms and Conditions Agreement
I have broken down the entire wholesale terms and conditions contract into subcategories. We will go one by one in detail.
---
1. Minimum Order Value
You should always define the minimum order value for your retailers. My suggestion would be to keep it in between $300 to $600. Of course, depending on the individual products you have to keep the minimum order value number.
A good template would be:
For first time customers of Ross & Paul the minimum order value is $600. New customers will be placed on Proforma until such time that total orders invoiced is over $1500. Once customers have reached the $1500 expenditure they will be placed automatically on 30 day net account providing they have completed a credit application form and have been approved by Ross & Paul.
---
2. How to place an order
Explain how your customers can place an order. List all possible ways to order from you.
Mention online site, if you provide online orders
Mention the phone numbers and working ours if you support phone
Give your best email to get orders
An example:
You can order through our general shop using both of the coupon codes (which we will email you) to place your order with no upfront charges. Upon receiving your order, we will send you a digital invoice for the total charges. If you prefer to send us a list of SKUs and quantities, that works too!
Another example:
Submit your order via our wholesale site at www.emergeapp.net

You must be a registered user to view this site. If you have not yet registered please go to the website, click on "Log In" then "Create New Account". Follow the prompts and submit your information.

Call our customer service representative toll free (800) 3xx-xxxx.

Please have an order form or the web site available when calling so that you can reference item numbers.

Fax your order to (800) xxx-xxxx. We can provide an order form to you via fax or email.
---
3. MSRP
Let the retailers know the MSRP you are willing to go for.
An example:
Products or goods purchased from Ross shall only be sold at the manufacturer's suggested retail price (MSRP). In the event the Wholesale Account chooses to place the products or goods for sale at a discount, the Wholesale Account shall not discount the products more than 15% below MSRP. Permission for special sale events beyond the 15% discount by the Wholesale Account must be requested in writing to Black Helmet Apparel and will typically be granted on a semiannual basis.
---
4. Wholesale Pricing 
Discuss the pricing advantage.
An example:
All prices are listed in US dollars. All authorized retailers will receive 50% off the MSRP, plus the cost of shipping. Trade clients (interior designers, architects etc.) will receive 20% off the MSRP, plus the cost of shipping. Prices are subject to change without notice. We will cover 50% of the shipping costs for any orders over $500. We cover the cost of postal insurance for any shipments through USPS.
---
5. Returns
Returns are the very important when it comes to wholesale business. Please be very clear about your return terms.
Make sure you discuss the number of days, waiver, shipping cost. Make it as clear as possible.
A typical wholesale returns term would look like this:
Returns must be made in writing directly to Head Office within 7 days of delivery date quoting invoice number and reasons. No returns are acceptable without Ross & Paul prior approval and delivery instructions for transport. Shipping will be charged.

For any goods returned as 'unsuitable' there is a re-stocking charge of 15% plus shipping chargeable to customer

Please email us with details of the product prior to returning it.
---
6. Payments
Please make sure you have listed all the modes of payments.
An example:
Ross and Paul accept credit card (MasterCard, Visa, Discover, and American Express) and EFT payments.

All credit card payments currently do not incur a merchant fee.

If paying via EFT, please fax to 073xxx xxxx or email us through remittance advice as proof of payment.
---
---
7. Net 30 Terms
This is a tough part, let your customers know about NET 30 terms if you are willing to go for it. Our suggestions are to make it a minimum cap of $10k onwards.
An example:
You may also apply for credit terms with us by filling out an application form with at least three credit references. You may also get a credit application by request via our Contact Us page or by calling toll free (800) xxx-xxxx after a minimum transaction of $10,000

Checks returned due to insufficient funds could be considered fraud and subject the check writer to prosecution and fines. However, we understand that usually there is no criminal intent and in these circumstances, we will only charge the customer a reimbursement for bank fees and other incurred costs.
---
8. Delivery Window
How long does it take to deliver the orders to their warehouse? Please make a typical delivery time, you can keep it flexible.
An example:
Please allow at least 10-14 days from the time of your order for completion of items. Larger orders may require more time; please contact me for information about availability.
---
9. Shipping
How do you intend to manage your shipping costs?
Whether you are willing to pay for shipping or your customers should pay for shipping or is it mutual 50-50 benefit. Be careful writing these terms, sometimes shipping could take away all your profits.
An example:
Shipping is not included in the cost of goods. On all orders freight will be charged on each invoice at a rate of 7% per invoice total, a minimum charge of $25.00 will apply.

Orders over $1500 are FIS
---
10. Shipping International Orders
We do not ship international orders at this time.

We have experienced too many customs and shipping complications to make this worthwhile for the customer.
---
Other Influencing Terms & Conditions:
Other important factors you may have to consider while preparing wholesale terms and conditions contract are below.
11. Shipping insurance
12. Shipping Errors, Returns, & Warranty
13. Exclusivity – Talk about exclusive deals if you have any.
14. Private labeling – If you provide private labeling, please specify the terms or minimum order value for private labeling.
15. Backorders
---
Ready to use wholesale terms and conditions template – Download.
Here you go!
Let us know what you think with the template, if you have any suggestions please ping us over twitter @emergeapp.