7 Actionable Tips on How to Increase Sales on Amazon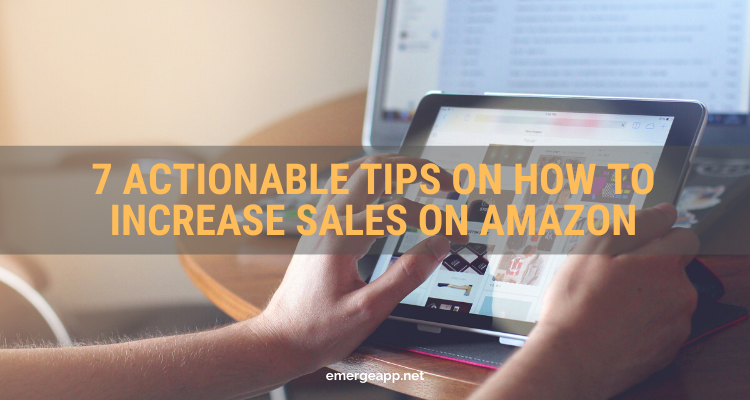 There's no doubt that Amazon is a sellers' paradise, and there are lots of things that prove it.
Sellers earn as much as 50% profit by selling or reselling the products because the platform has got so many customers. It's not rocket science anymore.
However, there are few tips that would make you a profitable seller, maybe best among your products.
You can easily increase the revenue, profit per product and ratings to make it large with these valuable tips on increasing Amazon sales. 
By continuously studying the market and noting some key elements of best sellers, we are here to your rescue.
Let's us analyze how you can increase sales.
---
How to Increase Sales on Amazon?
1. Positive reviews
Almost everybody on the Amazon product page goes to review section of the product and seller to see how other people have reacted to the product and seller.
Now, this is a great opportunity for you to convert potential customers into honest ones. Get positive reviews for your product and packaging experience by genuine buyers.
Now the question arises how you're going to do that.
If you're new, don't hesitate in giving products for free in lieu of positive reviews. Because in the long run, you can get your investment back, but not your reputation, if it gets bad. It is better to invest initially on the reviews section.
You can increase your reviews by having constant feedbacks from customers. You can use various software for feedback recording, and totally help the consumers who are facing a problem with the product.
This will surely leave an impact on those consumers, and you may get positive reviews. By opting this measure, you can also get rid of negative reviews.
Impress them with a good experience, and consumers will happily give you money for your products.
We would recommend you to try AMZFinder. It is an Amazon seller software which can help you gain more positive reviews by sending review request emails automatically, every user can send 500 emails for free every month.
Otherwise, its Review Management feature can monitor reviews and match reviews with order IDs, which is a great way to help sellers contact negative customers and improve the reputation of their store.
Also, another one would be AMZDiscover. It is an online search engine which can help you find the reviewer's contact info including their personal email address, Facebook, Twitter, YouTube and other SNS accounts on Amazon. Users can contact them to get more verified reviews and develop potential customers.
---
2. Freebies
In the initial period, to increase your rating and customer base, we would recommend you to give away products to first customers. You will gain popularity. You will gain popularity instantly and may get very good reviews.
However Amazon doesn't let you give 100% discount, but you can surely give 99%, which is quite the same. This will help you in the long run.
Even if you have established yourself as a seller, you must try it once in a while to generate fan base and happy customers.
Many sellers practice that in exchange of good reviews, and that's how they become popular among consumers.
After creating honest consumer base by these stunts, a consumer will likely to choose you over others for the same product, and if you get these customers to do that, you win the game.
---
3. Search engine optimization
This is an important factor to consider while naming your product and details.
Because keywords associated with the product play an important role is displaying it in the search results.
So research your product related keywords, and analyze which one to use for better ranks in the search results.
You get 500 words for product details, optimize these words in such a way that you can get most of the keywords covered.
Some sellers overdo their job and spam the product details with keywords only.
Now here you have to be creative with mixing the keywords with product specifications.
Amazon also lets you enter 5 keywords in the special section made only for keywords.
If already entered in the title, avoid that keyword in this section because Amazon's web spiders won't go from it.
You can use various tools like Amazon keyword tool to know your keyword rating from 1 to 10. Google use Amazon product details while showing up in the results, so be careful with that. Don't ever mess with your product detail, as the impact is not recoverable.
Considering the criticality of SEO, it is strongly recommended to hire an expert and give the matter into his hands.
But if you're already good at it, or learning through tutorials, then you can practice it yourself. This will surely take time but will make you independent in this department.
---
4. Rise Above the Competition
Many sellers before even starting, think that they're not going to survive this cut throat competition, but in reality, the figures tell otherwise.
Half of the sellers report profit margins of 20 % and more. You just have to know how to make into that half.
Even a small difference of 0.01 dollar in the price than your competitors can make a huge difference in the number of products sold.
There are tools designed to serve this purpose. They can make the price low for the same product, and then increase the price of the item if rivals get out of stock. This will increase your profit exponentially, you just have to wait for your lucky time.
You can use various techniques like better packing, product quality and extended the warranty to cut the competition. It all depends on how far you can go for profitable business.
---
5. Advertisements
Amazon also lets you advertise your product on the website page in relevant sections.
Amazon ad policy can make your product's ad to show in related products page, or in the search results on the right-hand side.
This is a great opportunity for you to grab consumers without any extra effort. Ad policy by Amazon is very seller friendly, and almost every seller use it. You should invest in the advertisement in order to catch some attention.
Amazon chooses people based on their search results to filter the appropriate audience for your ad, which means you spend money on exactly the type of people you want to. This leads to increase in Amazon sales.
---
6. Give Discounts
There is no one on the earth who doesn't love discounts. Make your price a little bit lower, but comfortable enough for you to make a profit, even if it's marginal. This will attract customers that always want to save that extra buck.
If you're able to land your product in hot deals section of Amazon, then trust me, you're going to get amazed by the number of orders. This will act as a great opportunity for your products to stand out apart and cut the competition.
Maybe customers are interested in your related products after they see your one product in the discounted section. Overall, discounts can give you a lot more exposure than you think.
---
7. Be an FBA seller
Fulfilled by Amazon is a great tag to have on your product because it creates assurance in mind, powered by Amazon, the best consumer friendly company on the planet.
This will also save you some hurdle because Amazon lets their logistics network to deliver your product successfully.
You can store the product in their warehouse only.
But that would reduce the profit because of the charges involved, but the impact is great and you will be able to recover in some time.
Prime customers become your target consumers by opting for FBA, which are in fact huge in number.
---
Conclusion
These 7  actionable tips on how to increase sales on Amazon will surely give you a competitive advantage.
It takes a lot of hard work, but once you start putting it in, you will be amazed to see the results. These tips are tried and tested, based on the experience of successful sellers.
Wish you a great luck for your long journey to become a profitable seller.