B2B Directories in Philippines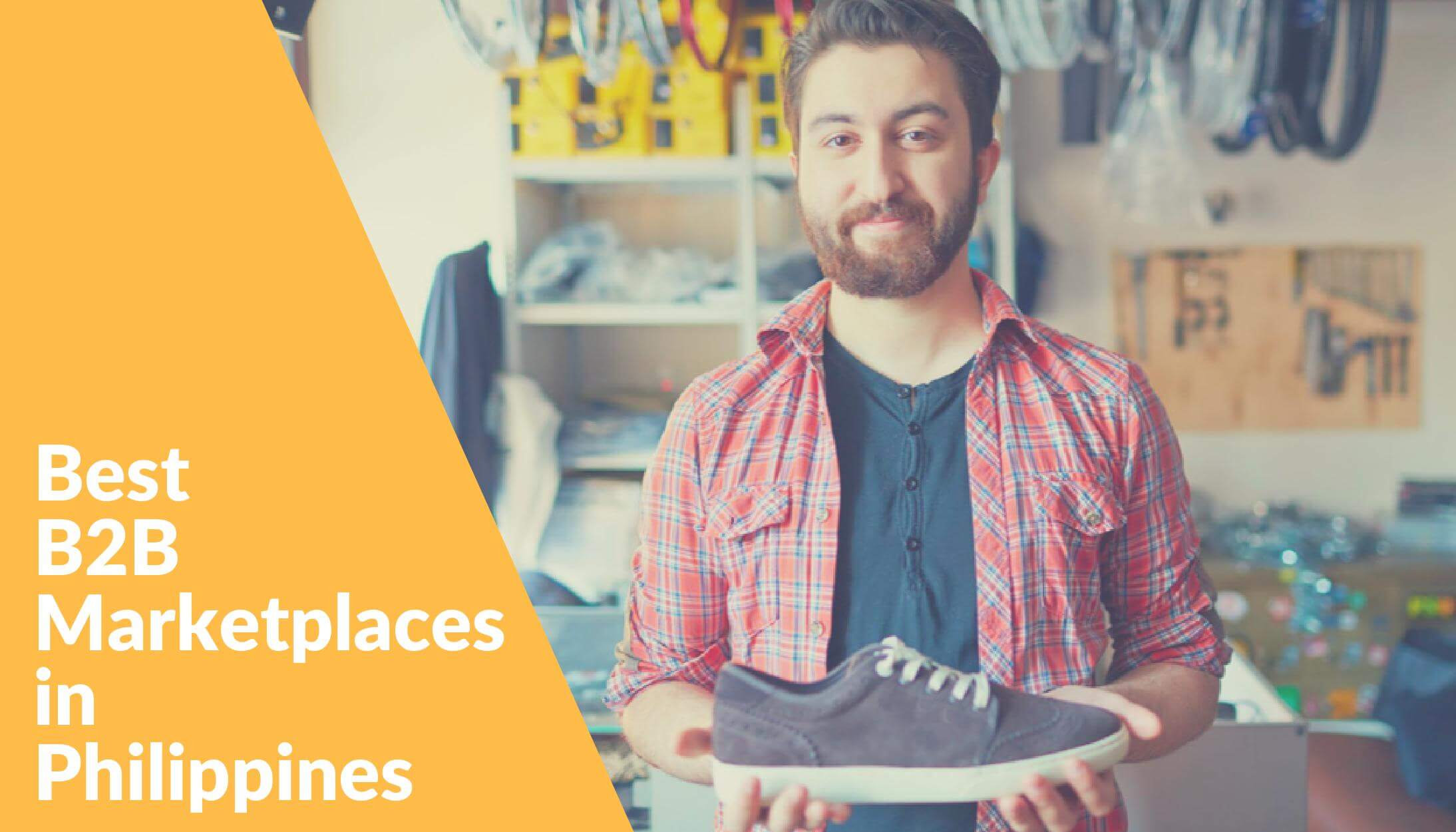 B2B (business-to-business), also known as e-biz, is the exchange of products, services or information (aka e-commerce) between businesses.
Business-to-business refers to a situation where one business makes a deal with another enterprise. This typically occurs when: A business is providing raw materials for other business' manufacturing process (e.g. a battery manufacturer buying lead).
An online B2B portal is an outstanding platform for both sellers and buyers to find another party according to their requirements. It involves minimum effort and persons with same interest collaborate thus it is a win-win.
These directories have facilitated trading methods and have brought a new era of doing business. You can meet any missing link to your business whether it be a  importers, dealers, exporters, and supplier they all are just a click away.
Having known enough about B2B Directories, here is a list of B2B portals popular in the Philippines to grow your business network
B2B Sites in the Philippines
1. Philippine Companies – Filipino Business Directory
URL: https://www.philippinecompanies.com/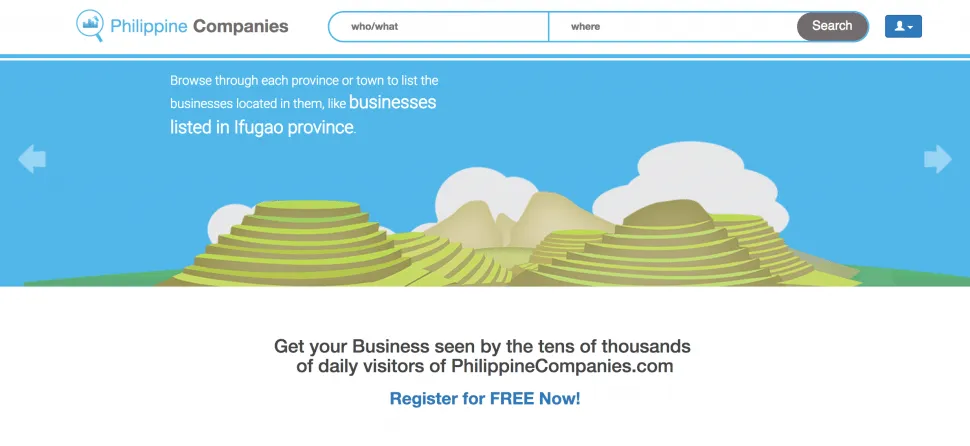 PhilippineCompanies.com was launched in the year 2007. PhilippineCompanies.com owned by EACOMM Corporation.
The main motive is to help people find answers to simple day to day life questions like "Where do we get best deals on clothes in Quiapo?" to information requiring questions like "List of all IT Companies present in Cebu." Its more like Quora for businesses in PH.
PhilippineCompanies.com constructs its database from various public directories which contain different kinds of information, like Business Registrations in various Municipalities and other Online Directories. The new entries are updated after 24 hours. Their growing database makes them one of the largest business directories in the Philippines.

2. Pinoylisting
URL: http://www.pinoylisting.com/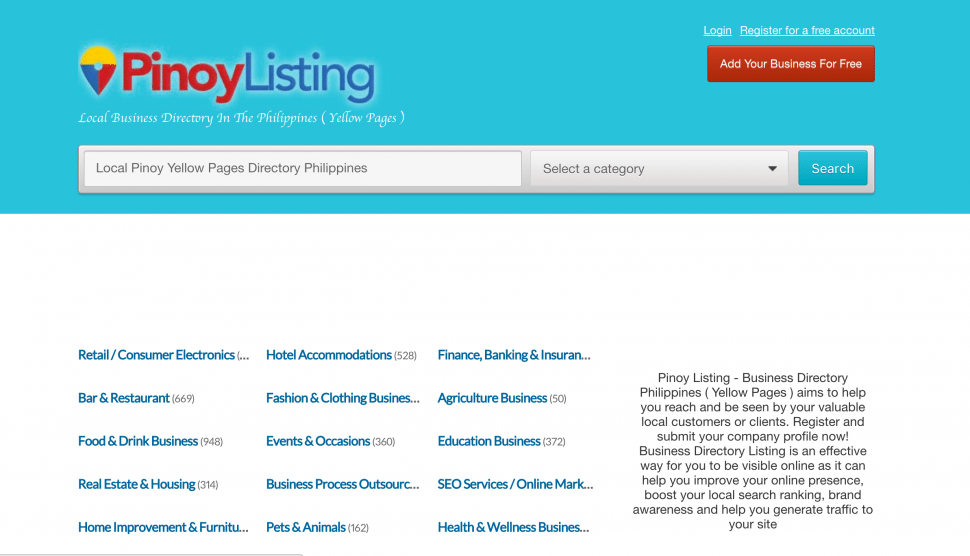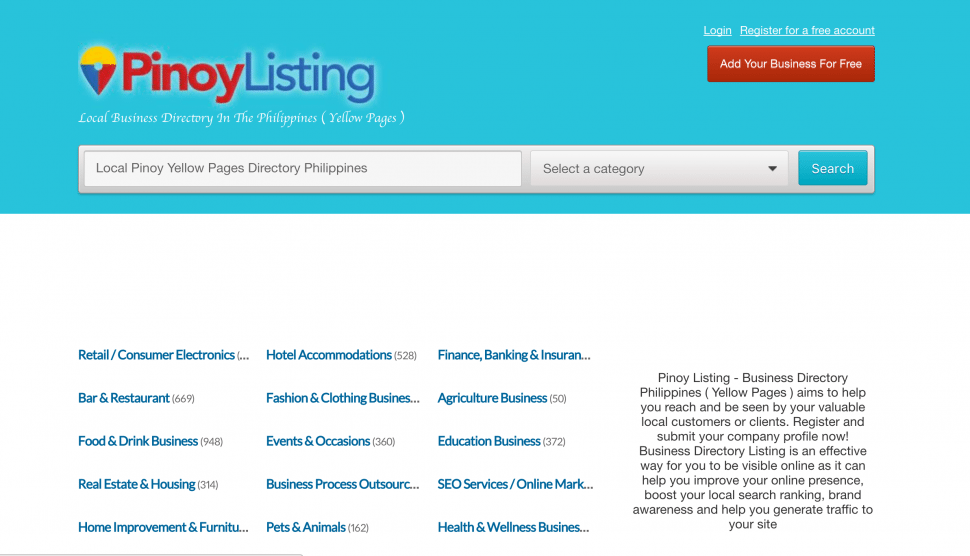 Pinoy Listing is a free classified and business directory in the Philippines. It contains a list of the various Filipino businesses running like: markets, restaurants, organizations, embassies, home delivery services, balikbayan boxes (boxes transported from other countries to the Philippines), and various other kinds of service-oriented businesses.
It which helps sellers or business to promote their business online and reach customers easily by boosting their company's online presence, local search ranking, promote their brand and help also generate traffic on their website.
Pinoylisting receives about 1,300 unique visitors and 10,660 (8.20 per visitor) page views per day.
3. Yalwa
Global website: http://www.yalwa.com
Philipines website: http://www.yalwa.ph/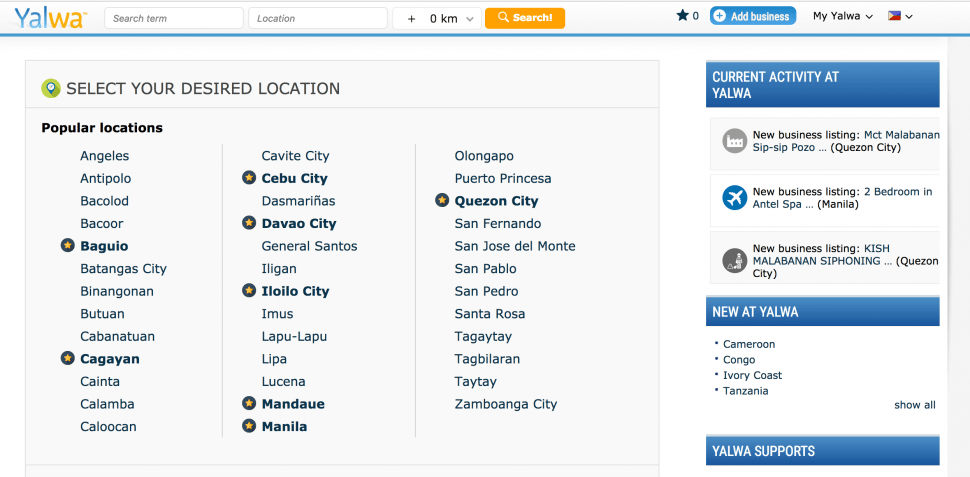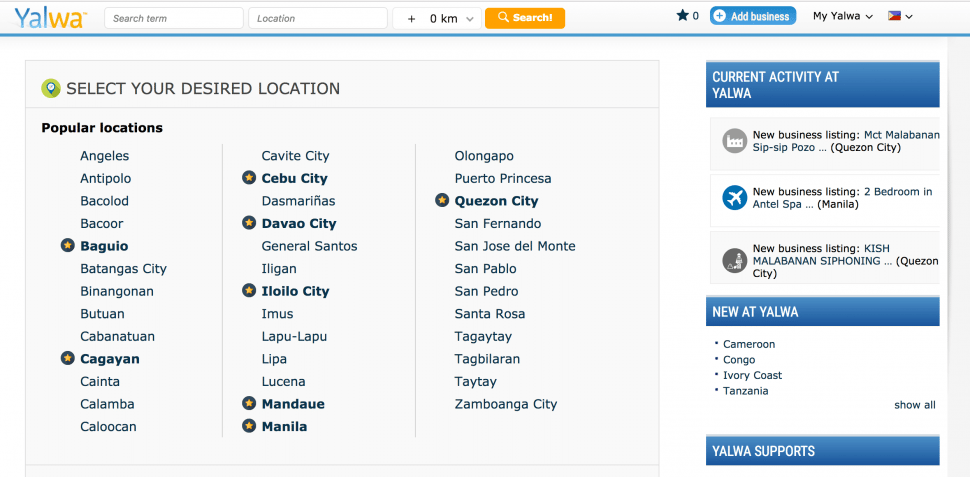 Yalwa was founded in the year 2006, the CEO and founder is Klaus P. Gapp. It is a worldwide business directory in which companies of diverse industries can list about their business and Yalwa users will be able to find business listings. Yalwa Business Directory is available in over 50 countries worldwide, Philippines is one of those countries in which Yalwa is popular.
Yalwa also shares customer ratings and their experiences about the services they have availed. The Yalwa users leave ratings that helps the buyers to decide whether or not they should avail those services and are it worth their money or not.
You might also like
4. Business list
URL: https://www.businesslist.ph/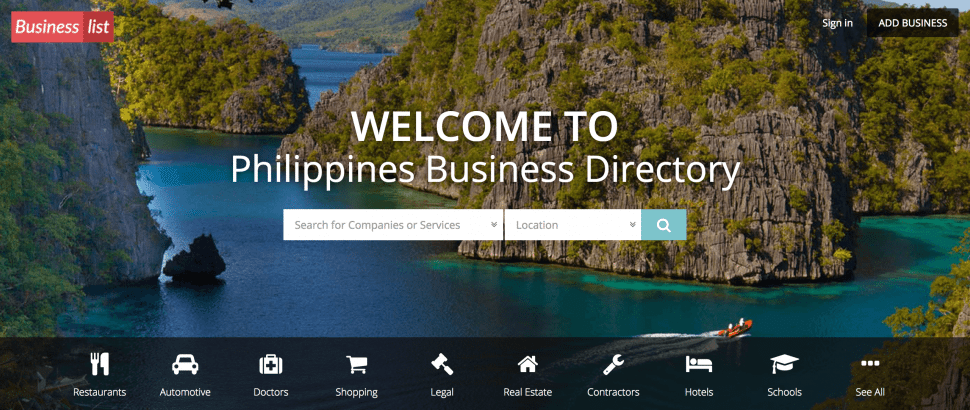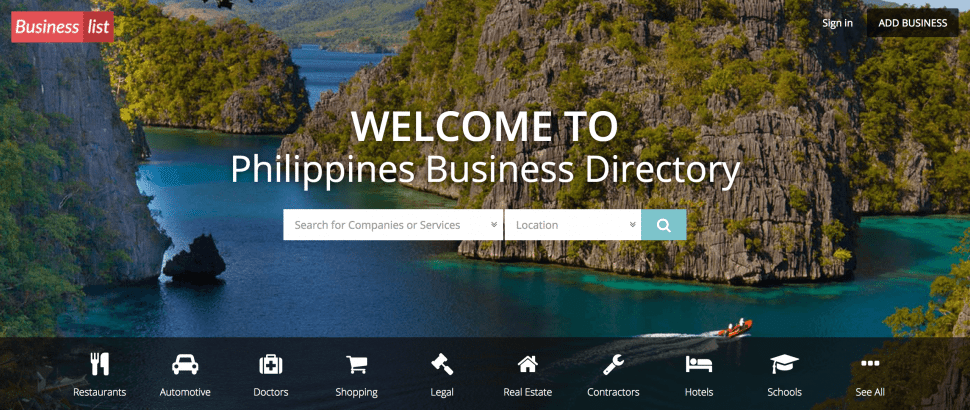 Business list is another Business Directory in the Philippines where companies add free business listing about their business. It acts as a common platform for interaction between Philippines Companies, clients, and the general public.
It was founded in the year 2009. It basically helps to gain new customers and generate more traffic. This is done by creating a business profile on their site. In the business profile, give a description about the company, the salient features, products, some good pictures, articles/news releases.
5. Tuugo – B2B website in the Philippines 
URL: http://www.tuugo.ph/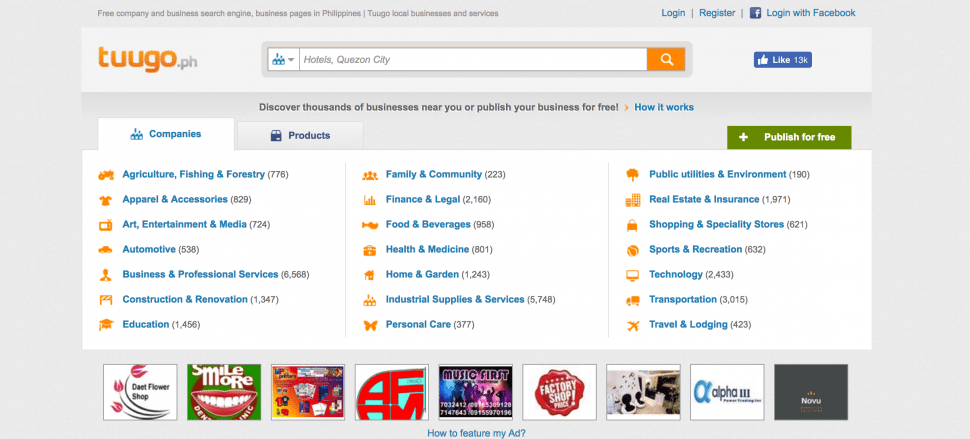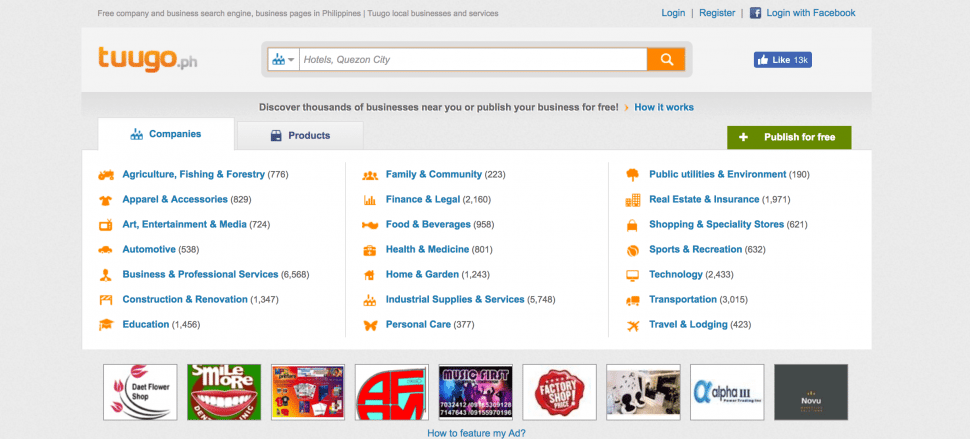 Tuugo is a Business to Business and Customer Search Engine which is free of cost for both individuals and businesses. They simply aim to provide a customer friendly business directory.
Individuals and businesses can post about their business. Buyers search for their store or business requirements. They also display sponsored ads of companies.
Take away
Thus, to grow your business by being in touch with Professionals of you industry these B2B portals are best. In the Philippines above mentioned directories can expand your business to maximum customers and suppliers. We hope this article helped you and served what you were looking for.