What is Seasonal Inventory and How to Deal With It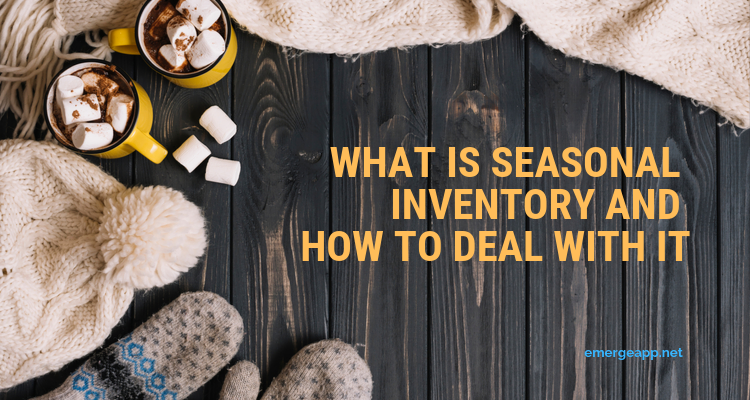 When you're a wholesaler and distributor of physical goods, you might notice a seasonal effect on the sale of your goods throughout the year. Depending on what you're selling, you may see a dip or rise in sales just before the autumn/winter or spring/summer seasons, or before major holidays. This is seasonality at work here and it may cause you to stock-out or be over-stocked in certain goods because of this effect.
We'll cover what is meant by seasonal inventory first and then cover some of the problems that it may cause you in the management of your inventory levels. Once we've identified the issues it's time to sit down and review what you can do about them to minimize the impact of seasonality on your stock.
---
What is Seasonal Inventory?
As the name suggests, seasonal inventory refers to goods that see a fluctuation in demand due to weather, events or holidays during the year. This rise and fall in demand are reflected in your sales during these periods and thus your level of stock.
Not All Products Are Seasonal
If your product sees a fairly consistent demand, say wines of the world, then you'll see constant sales throughout the year. Customers will simply switch between red and white wines during the warm and cooler months.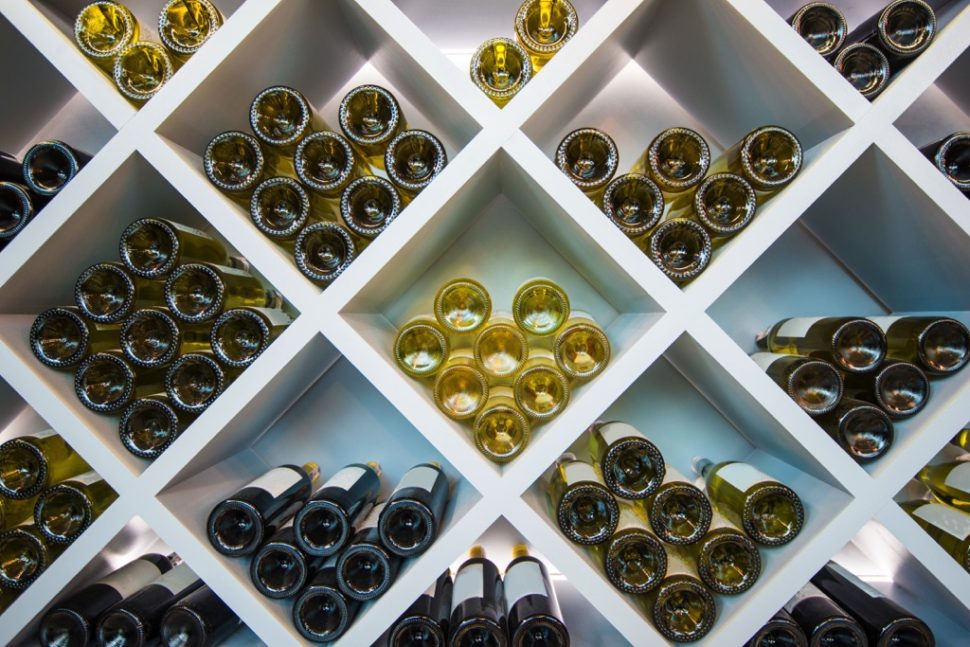 They won't stop purchasing wine altogether but will buy them according to the season and the food they will pair them with. Just think of chilled white wines with cold chicken during summer, and robust reds to go with roast lamb and turkey during the winter holidays.
Some are Super Seasonal
On the other hand, if you deal with a product that is very responsive to seasonal demands then you will see your sales and stock levels rise and fall with these seasonal factors. Think quick-drying board shorts and swimwear. If you're in the northern hemisphere, you'll see that your sales will pick up from June, peak in July and then tail-off in the final weeks of August as summer winds down and school reopens.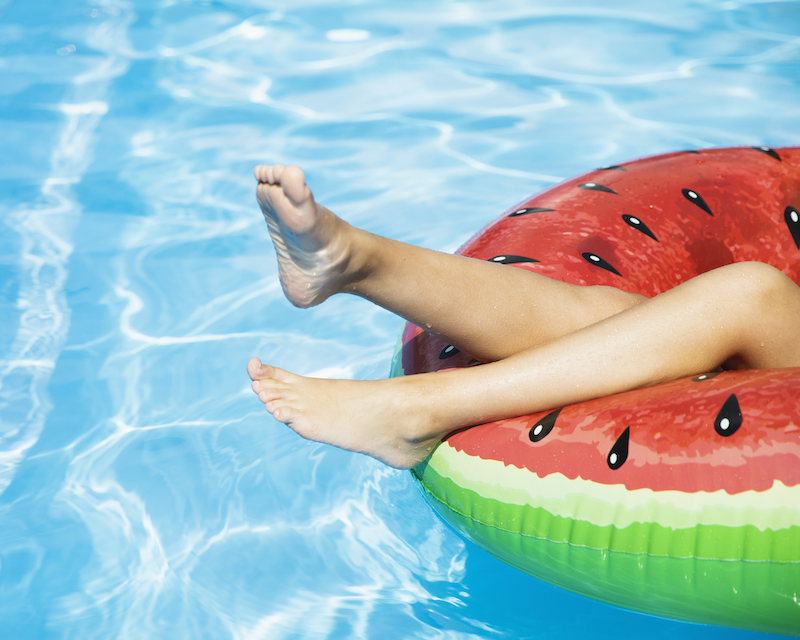 You will most likely see little or no swimwear sales during the colder months of October, November and December — unless of course you sell your products in states that enjoy stable weather all year round such as California and Florida, or export to countries in the southern hemisphere such as South America, Australia and New Zealand.
Don't Forget Seasonal Events As Well
Other seasonal examples include sporting events for example. When the World Cup rolls around every four years and you're dealing with sporting goods, then you had better make sure that you stock-up for football boots, balls and country jerseys. Likewise, if you're dealing in hot sauces and frozen chicken products, you'll want to make sure that you place your orders and replenish your stock well before Super Bowl appears on the first Sunday of each February.
---
What Problems Can Seasonal Inventory Cause?
As you can see, seasonal factors can play havoc with your carefully planned inventory purchases. Purchasing stock is a constant business risk that wholesalers and distributors undertake in running their businesses. Purchases need to be paid in cash to suppliers even after generous 30-day credit terms. This cash could be used elsewhere in your business instead of being tied up in stock that may still be unsold after 30 days.
If you don't manage your stock purchases in line with seasonal factors then you're likely to experience stock-outs, overstocked goods or obsolescence when seasons pass. Remember, it costs money to store stock in your warehouse, insure them, and you run a higher risk of facing theft, damage or natural disasters when you're overstocked.
Stock-Outs
If you don't replenish your stock before a favourable season appears then you're likely to experience stock-outs, lost sales and unhappy customers shifting their purchases to competitors. Customers may make a run for a product that's suddenly become insanely popular through social media and viral marketing.
This leaves you in a dire out-of-stock situation as it takes time to order and replenish stock from suppliers, who may be experiencing fulfilment problems themselves due to production constraints, lack of raw materials and backorders from other wholesalers and distributors.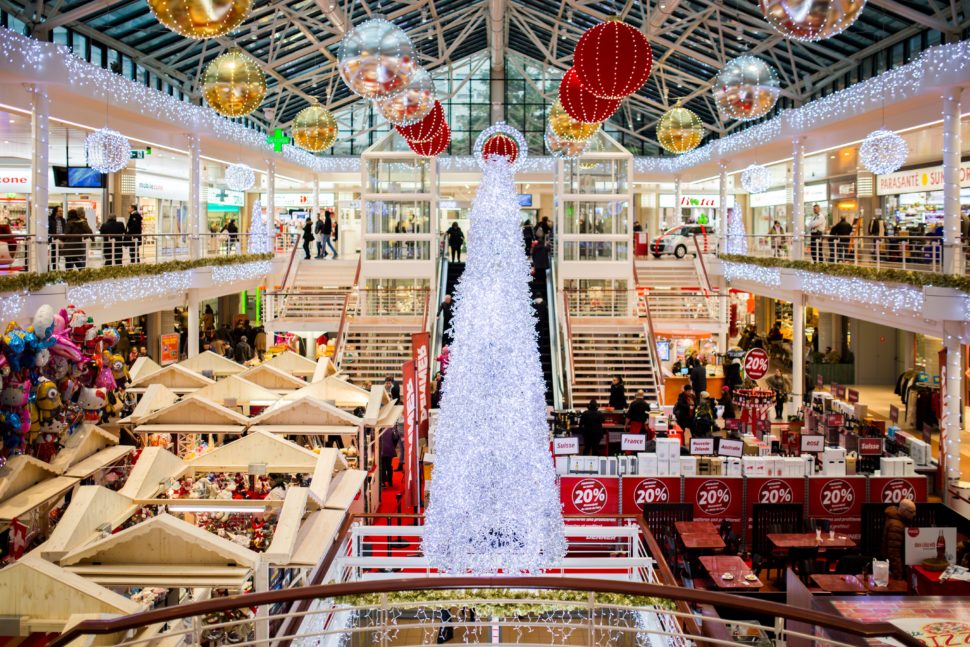 Every Christmas, for example, sees an "it" toy that every boy or girl in the world wants. It could be a walking-talking doll in various shapes and guises, or collectibles that send adults scurrying to find in toy stores across their city, state, and country. While there is no science to accurately predict Christmas hits, canny wholesalers and distributors will start to stock-up on what they think will sell well during the holiday season.
Obsolescence
On the other hand, stocking up on what you or the market thinks will be a bestseller also puts you at the risk of obsolescence when the season buying frenzy ends. Suddenly no one wants to kick a soccer ball around after the final World Cup match. Blame it on viewing fatigue, shifts in consumer spending or weather, you're suddenly left with warehouses full of balls that are seeing no sales with autumn and winter fast approaching.
And if you're dealing with high-tech hardware, seasonality can also appear with new product launches every September and October. Manufacturers always time their product launches in autumn so that sufficient interest, marketing and reviews will drive consumer purchases and sales heading into the holiday gifting season. Suddenly last year's high-tech mobile phone is left languishing in your warehouses because consumers are holding their breath waiting for the new model, and they ain't buying the previous model because it's so last year.
Excessive Stock and Dead Stock
When stock is left to accumulate in your warehouses, your risk of excessive stock and dead stock is high. Holding far too much stock than you can sell ties up your cash. And holding stock that doesn't sell for 12 months is going to lead to a dead stock situation. All this means losses for your business. You need to start moving or offloading this stock with deep price discounts as an incentive.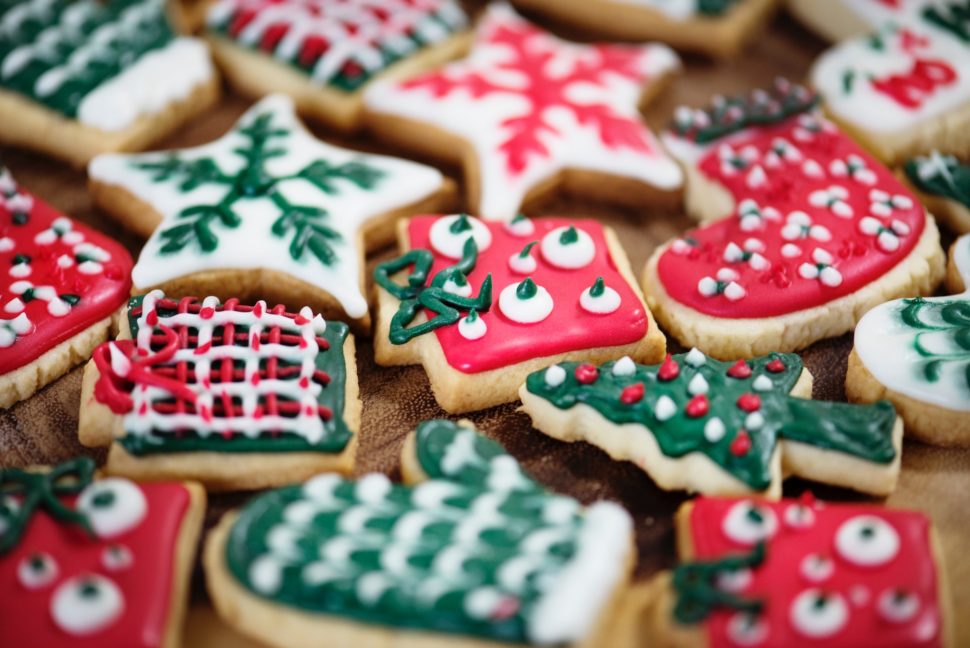 The 25th of December passes. It comes as no surprise that knitted jumpers, fruit cakes and Santa Claus outfits see a falloff in demand. The shopping, eating, drinking and gifting frenzy has passed, and so have consumer purchasing decisions. Sales of Champagne and sparkling wine will rise as people buy in anticipation of the New Year. No one wants another reindeer outfit — well, not for another year at least.
---
What Can You Do About Seasonal Inventory?
It's not all doom and gloom if your products are affected by seasonal demands. In fact, we'll show you how you can turn this into an advantage if you're willing to diversify a bit. On the other hand, if your products are not affected by seasonal ebbs and flows, then congratulate yourself. You may even wish to carry some seasonal stock if it complements your products. Let's see how you can live with seasonal demand.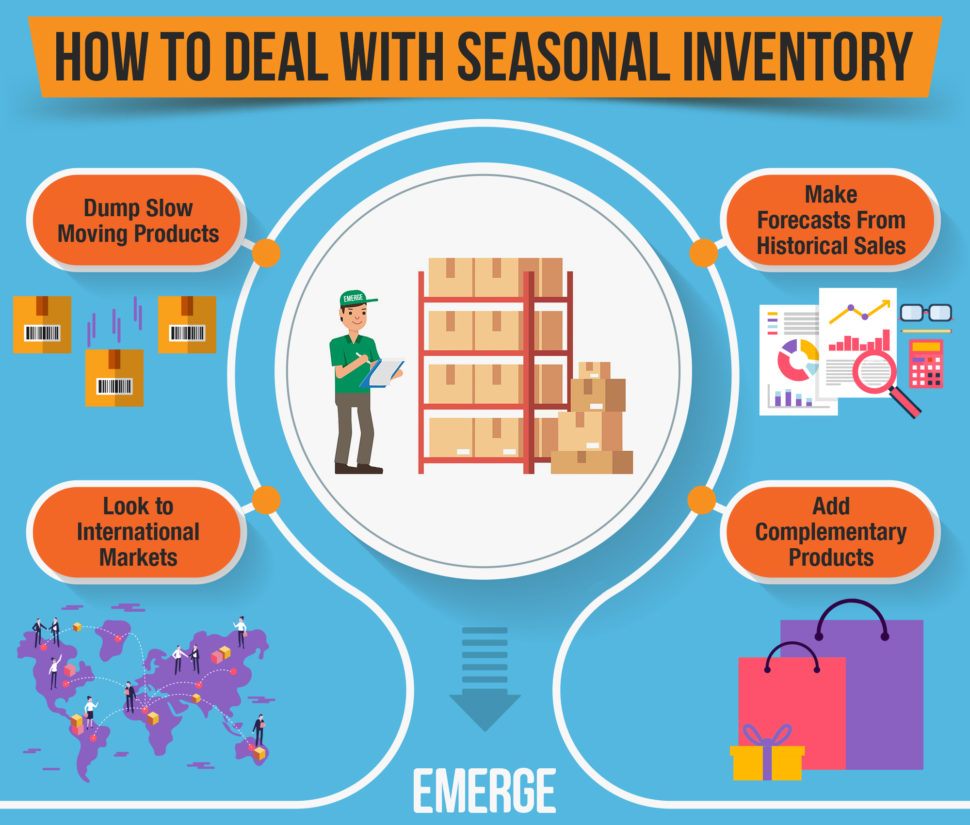 ---
1. Make Forecasts From Historical Sales
Pull out your paper sales reports, export them from your accounting software or simply view them inside your inventory management software. Then visualise your sales data with the help of software or spreadsheets rather than relying on number trends. The relative change between months can surprise you!
You won't completely eradicate seasonal factors with this approach. But you'll come close to reducing their effects and impact on your sales and stocks. Most importantly, inventory management software takes much of the guesswork out of forecasting and purchasing decisions at your business. Remember, stocking up on products means that you're tying up cash that could be handy when you need it most.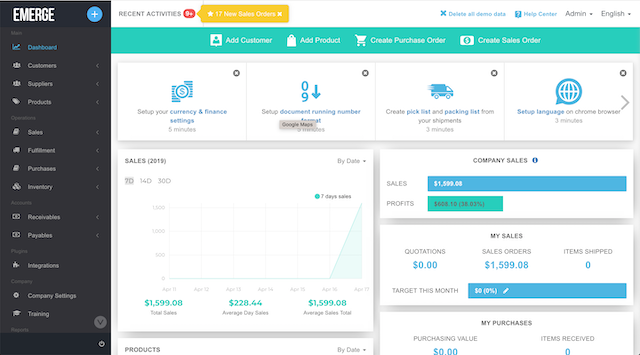 An inventory management software solution, such as EMERGE App, should be at the heart of every successful wholesale and distribution business. And such inventory software shouldn't cost an arm and a leg, making its benefits well justified. Web applications store data in the cloud for easy access from wherever you are in the world. This is important if your business spans several markets or time zones.
---
2. Deal in Complementary Products
If seasonality is getting the hold of you then diversify your product catalogue. Jump into other areas that complement your existing products. We call them "opposite" products because they're the flip side of whatever you're selling. But they fit into your product catalogue just nicely.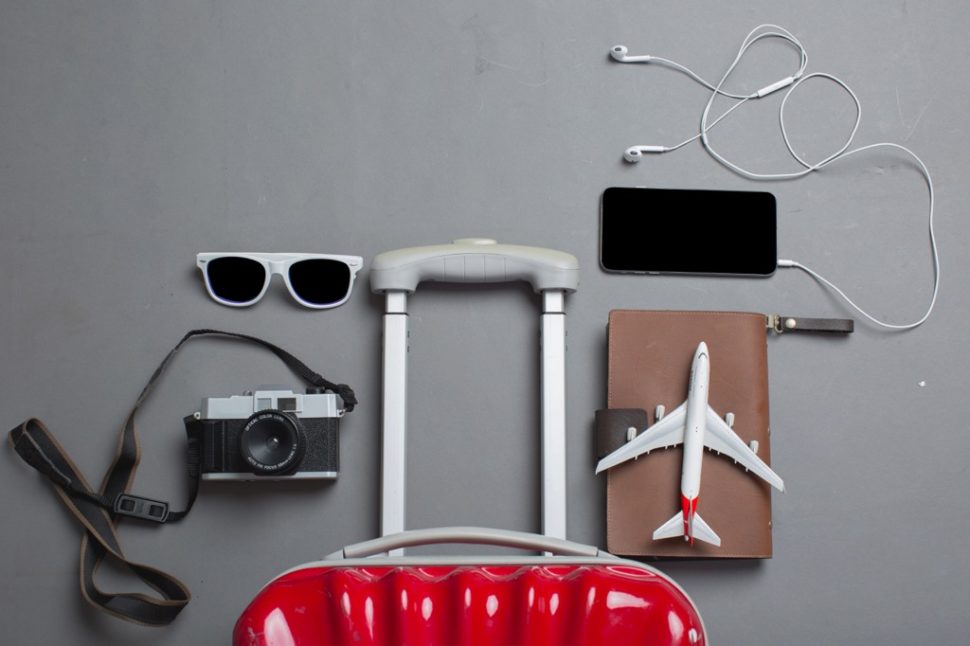 So, if you're dealing with summer swimwear, for example, then bring on board winter sportswear for snowboarding and skiing. You are dealing with lifestyle and sports products after all. You may even find that the same consumers who surf during summer breaks will also ski and snowboard during winter.
If your products enjoy rock-solid sales throughout the year then you might wish to add seasonal products. You may enjoy an extra oomph in sales on top of your core products. For example, as a wholesale wine merchant, you carry red and white wines that enjoy consistent purchases throughout the year. You may wish to carry summer spritzes for hot weather and warm spirits for the cooler months. This way you enjoy any additional sales that these seasonal products bring you without affecting your underlying wine sales.
---
3. Diversify into International Markets
A bigger step is to jump into overseas markets that experience different seasonality patterns from your home market. This is a form of arbitrage. Back to swimwear, your suppliers may be willing to clear last season's summer swimwear at ridiculous prices. You buy their stock at low prices and then export and sell them overseas to countries entering their summer season.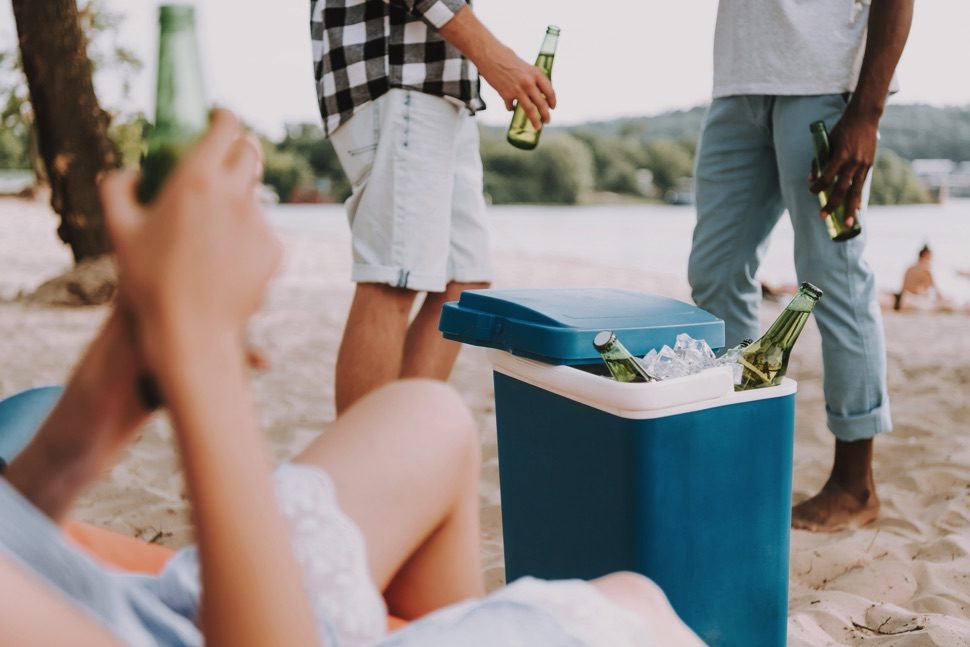 Likewise, sports suppliers in Australia and New Zealand may be desperate to clear their stock of skis, snowboards, and clothing. You buy them, import them and then prepare them for sale in the coming winter season in your home market. See what we're getting at?
This way you should never face an overstocked or deadstock situation if you move your stock around the world's markets. Of course, you'll need to factor in shipping time and landed costs in each country. Customs, insurance and freight costs can add up!
---
4. Dump Slow Moving Products
You can use promotional discounts and clearance sales as a measure of last resort to clear your seasonal stock. Throw small discounts mid-season and then deeper, crazy discounts as the end of the season approaches. You can't avoid not having sales but you might as well make them work for you.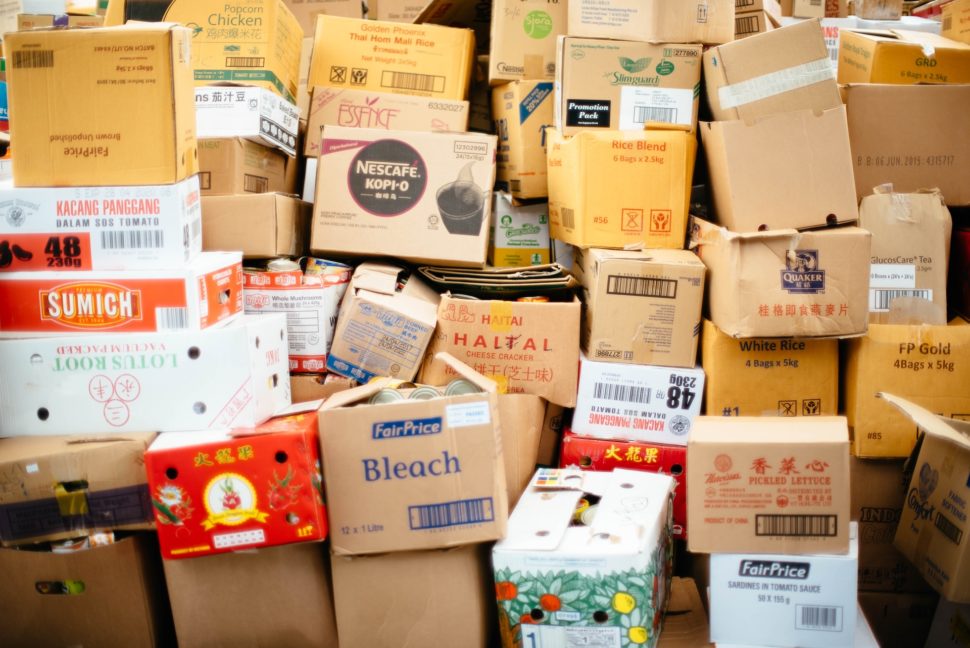 After all, the faster you sell last season's stock, the quicker you'll convert that inventory to cash. You can then focus on the next season. There's a very little point in carrying deadstock into the next season. The best strategy is to grin and bear it during the clearance sales. If it's any consolation, the marketing buzz surrounding your sales will generate awareness from your customers.  And hopefully, repeat business when you're well into the next season.
---
Conclusion
You simply cannot ignore seasonal factors. As a business owner, you need to be well-informed about weather patterns, holidays and events that directly impact your sales. Savvy wholesalers and distributors will aim to reduce the impact of seasonal factors by diversifying their products and markets. Even more will use order, purchase and inventory management software to make well-informed decisions. Where do you stand?