A Complete Guide on How to Sell Jewelry Online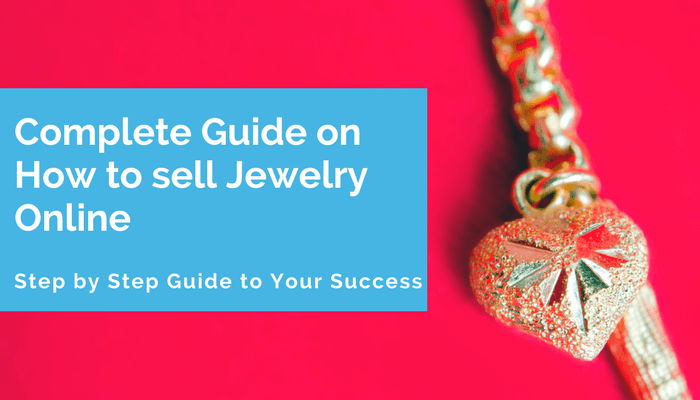 So You Want to Sell Jewelry Online?
So are you planning to convert your hobby into a Legitimate Business? 
Got a good eye for shiny things?
If the answers to the questions asked earlier are yes, then you are at the right place to start your journey to become a successful entrepreneur in the Jewellery Making Business.
Since the last few years, e-commerce websites have gained a billion-dollar market online. According to a research, in 2016 more than 29 million people purchased jewelry online.  
E-commerce websites create a win-win situation for both the buyer and seller.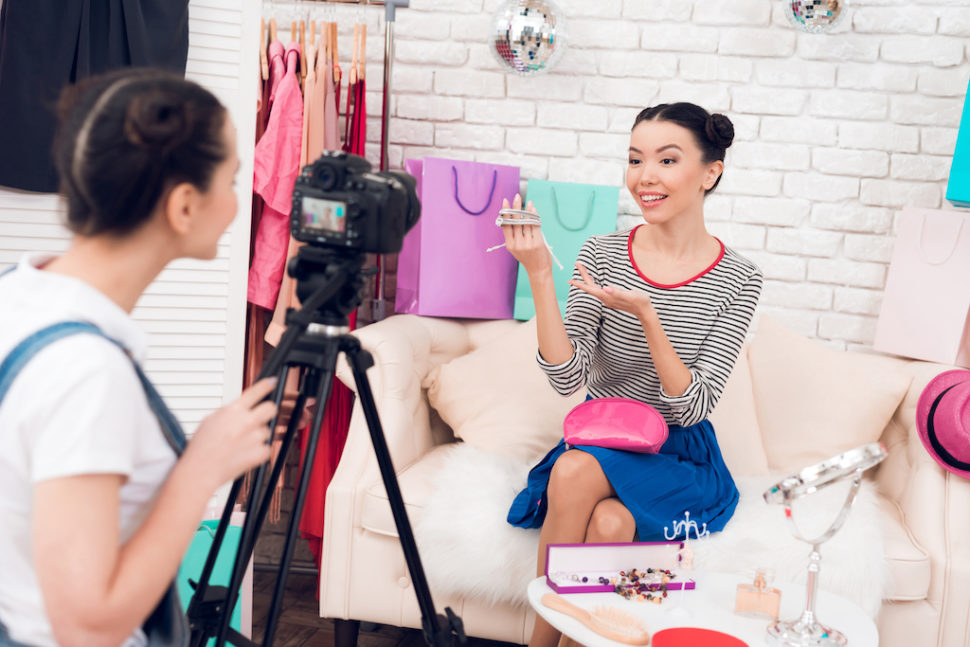 It connects buyers and sellers from all over the globe. The seller is able to reach out to the masses easily, and gain a good amount of profit without having to put extra effort. The buyer is also happy because they get access to a large variety of products and get branded products at the best price.
There is nothing close to a woman's heart than the jewelry she possesses.  From all around the world, Jewellers try to create and sell popular jewelry products to women.
But that is the half-truth, jewelry is a consumer product that attracts both men and women from all over the world, irrespective of their age or culture they belong to.
Going by recent trends, men like to jazz up their appearance with suitable jewelry!
The huge demand in jewelry also means that the competition in this market is also huge. The authenticity of the ornaments available online is also a key factor in this business.
Thus this business is not a piece of cake but we can help you achieve sky-high profit margins if you pull the right moves.
---
1. Choose your Jewelry Market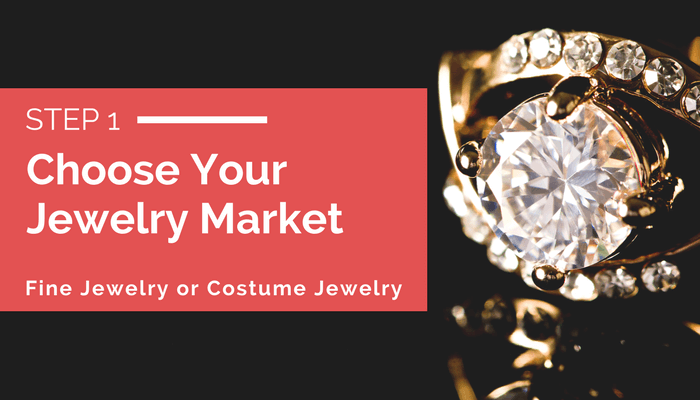 The world of jewelry is diverse. It can be overwhelming to sort out all the kinds of jewelry that are available in today's market.
1.1 Fashion or Costume Jewelry
First appeared in the 1930's.

Sometimes interchanged with the term fashion jewelry, they are both synonymous with one another.

Includes jewelry made of less expensive metals and man-made stones.

Generally uses a thin coat of metal over other, less expensive, metals such as brass and bronze.

Usually, brass or bronze is used as the base metal and painted over to resemble gold, silver, or platinum.

Mass-produced and cheap.

They follow the trends quickly. Many Hollywood actresses opt for fashion jewelry because it is so much easier for designers to follow the trend and design new things. When it comes to Fine Jewellery, you have to be very careful while working with 24k gold.
1.2 Fine Jewelry
First appeared in the 19th century.

Usually composed of rare gemstones like diamonds, rubies, sapphires and expensive precious metals like gold, white gold and platinum.

Often considered as an investment that can last for generations. Good option for people who like to wear jewelry all the time.

Usually saved for special occasions like marriages and engagements.
1.3 Semi-fine Jewelry
Somewhere between Fine Jewelry and Fashion Jewelry.

Usually consist of mid-range jewelry made of gold plated, gold vermeil (a thicker gold plating) or gold fill jewelry.

Sterling silver is used as the base metal so it can last longer.

Does not last a lifetime but they always follow the current fashion trend.

Offers a wide range of on current trend jewelry at affordable prices.  
---
2. Where to Sell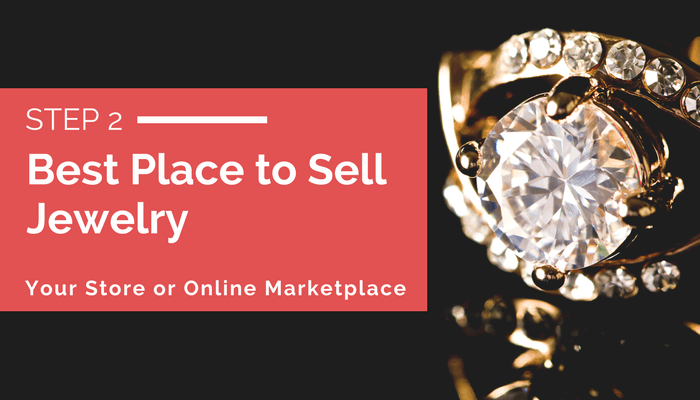 You have two options to sell jewelry online, either design your own online store or collaborate with an already reputed online selling marketplace. Both options have their pros and cons:
2.1 Own Website
You are the sole administrator of the online store.

Everything happens at your will and the freedom to experiment is there. You can introduce your policies and control the system as you like.

To build a credible online store and make customers loyal from scratch is easier said than done. You have to compete with well-settled sellers online which needs a lot of marketing skill and huge capital.
To make your very own online store for jewelry, try these sites:
Etsy

Shopify

Wix

Zencommerce

Zepo

Kraftly
2.2 Online Marketplace
This option is for small-scale manufacturers.

You sign a contract with any renowned online shopping website after you fulfil all their criteria.

This option is less risky as you don't have to worry about the marketing. The website does it for you but you have to pay the price for it, too. So you reduce the profit by a considerable amount.

But all the headache is avoided since the website is responsible for the advertisement.

The credibility of your products is enhanced by the reputation of these online marketplaces.
The online marketplaces which sell online jewelry are:
Amazon.com

Ebay

Flipkart

Wpdiamonds.com

Worthy.com
---
3. Do Your Market Research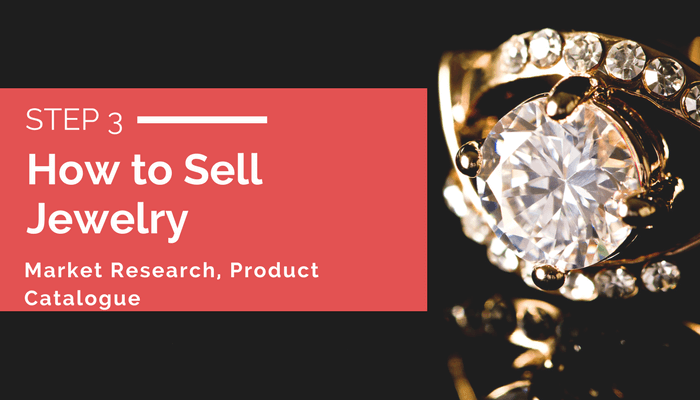 Before you plan to launch your online business, do thorough research on the type of jewelry market you have chosen. Doing a detailed research about the target market gives you a rough idea to build a strong business strategy, tweaking advertising of products, finding your ideal customers, management, and sales in high probability sales areas.
The fashion industry is a fast-moving industry, so it is very important to keep involved with time. Customers are always on the lookout for the latest jewelry trends to add to their attire.
So here are some tips that will help you keep in touch with the latest updates in the jewelry industry
3.1 Follow Fashion Blogs 
Nowadays, there are numerous fashion blogs available online written by famous fashionistas and designers. Some of such blogs are:
So make it a habit of reading fashion journals and jewelry blogs everyday!
3.2 Make Use of Google
Google Trends

is an online search tool. You can search for various terms and in the results you get your search term relative to the total search volume across various regions of the world.  In simple words, it shows you the product is trending.

Google Alerts

is a powerful tool to keep track of current trends. Enter "jewelry trends" into Google Alerts, and it will send emails to the user when it finds new results on web pages, newspaper articles, blogs, etc.
---
4. What Are You Selling?
4.1 Product Category
Select types of suitable categories for your products. Divide all your products according to genders and age group. For example, you have products like rings, anklets, necklaces, etc for men and women. Divide and put them in different sections by dividing them according to their gender and age group.
4.2 Product Photography
Photographs of the products are the most important aspect for a successful sale.
Photographing jewelry can be easier than taking photographs of larger items because the studio setup is easy to setup and it takes less time.
Peggy Li, founder of Peggy Li Creations: She has been making and designing jewelry for over 12 years. Her designer jewelry and handmade jewelry has been seen on various TV shows like The Vampire Diaries, Elementary, Hart of Dixie, and in magazines such as Oprah Magazine and Lucky. She shares an important marketing tip:
"For online marketing of your jewellery work, it is very important to have clear and informative descriptions. What are the dimensions of the work? What are the materials used? Potential customers need this kind of information to help them decide on their purchase.  And to seal the sale, give a little insight into the inspiration behind the piece and a story about the techniques you used to create it.  Personal details will help your item come alive for the shopper."
---
5. Describe Your Products
Betsy Cross, owner of Betsy & Iya, is a maker of modern jewelry in Portland, Oregon and a curator of quality goods by independent artists and designers. She spoke about her success mantra:
"Tell a story! Often times in business, we are advised to be professional and leave out the personal. While I completely agree that remaining professional throughout the journey of your business is non-negotiable, I think one of the biggest missteps is actually not making it personal. Strike a balance. One of the strongest choices you can make as a business owner is to give your customers a genuine glimpse into who you are. It allows them to make a stronger connection to the work. By making that connection, they'll be more likely to remember your work and return."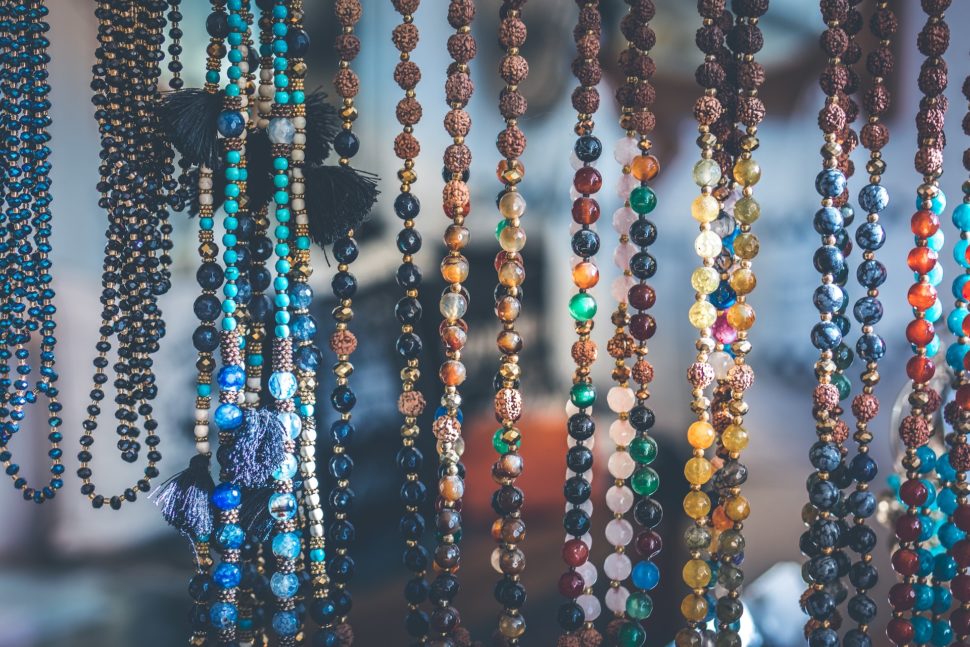 After you are done with the product photographs, number them and write a description about each of them. In the description

mention everything about the product

: color, dimensions, material etc.

You can also

mention some background stories

like from where those ornaments were inspired or if they had any historical stories related to them.

You can also write

how to team up the jewelry with their outfits

, making it sound like a necessity. So that it can push them that product.

But

do not write any false descriptions 

about your product as in the long run it will backfire and spoil your image, brand and goodwill.
---
6. Price Your Products
Pricing your product can get tough initially. Setting the price of an ornament too high will scare away customers, but pricing an item too low will cause trouble in gaining profit. So here are some tips to help you decide the final price:
Set the price according to your target audience

: The people who will be buying fine jewellery are more likely to spend more money than the people buying costume jewellery. The reason is known because fine jewelry is expensive and lasts longer. So set a fair price to gain the trust of your customers.

Set the price to gain profit

: While deciding the final price keep in mind the jewelry base price, the cost of manufacturing, marketing, packaging and shipping of the product and don't forget to include a good profit margin.
Keep your friends close, but enemies closer

: Always check the prices of your competitors when they are offering the same or similar products. Set the prices lower or near to the prices offered by the competitor.

Keep changing the price according to the demand

: Before any festival or some special day, the demand for jewelry will increase. Like before Valentine's Day the demand might increase because jewelry is perfect for gifting on that day. So you can increase the prices few from a few weeks before. However during offseason, the demand might go down or the stock has gone out of fashion. You can provide them at lower prices.
---
7. Final Tips to Sell Jewelry Online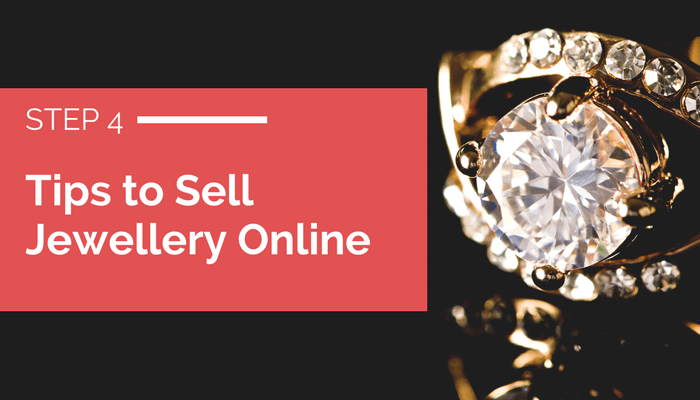 After knowing what kind of jewelry you will be selling, you must have a basic plan to stick to implement your ideas effectively. The following tips are crucial to succeed in this business:
7.1 Choose a well known Online Distributor 
If you are looking forward to selling your jewelry on an online store, your first step will be an online distribution store which is well settled in the industry.
You subtly arrange yourself a loyal customer group and slip your products into their attention with other products of the website.
The brand-name of the website provides credibility to the product. For that, you have to go through the essential requirements for dealing with the store and fulfil them.
Thus, signing-in with a trusted name is something you need to start with.
7.2  Avoid Fake Stuff
This one should go without saying. If you are at an initial stage of your online business, building trust should be your concern. In the attempt of making quick bucks, you can ruin your long-term future. You would rather have fewer sales than sell knock-off items and get tons of negative reviews.
This does not only drives your customer away, you can also face some serious legal issues. You can end up with your license getting cancelled, you can get banned from an online marketplace. Thus sell genuine products and be patient because there is no alternative to quality and it ultimately pays off.
---
Wait, That's Not All!
Jeannie Manzo from Say Hello Diamonds says:
Get an Edge Over Other Sellers
You got to come up with a creative approach if you expect to be preferred your competitors. You need to have unique stuff on your hands and a proper plan to make it reach your customers.
Get out in the market, figure out the products people are crazy about because it's all demand and supply. Target the right audience with your marketing campaigns.
Get the tag of 'fair-trade' on your stuff and make the customers believe that you are the one seller different from the rest. You need to learn the needs of the buyers and execute them into your goods.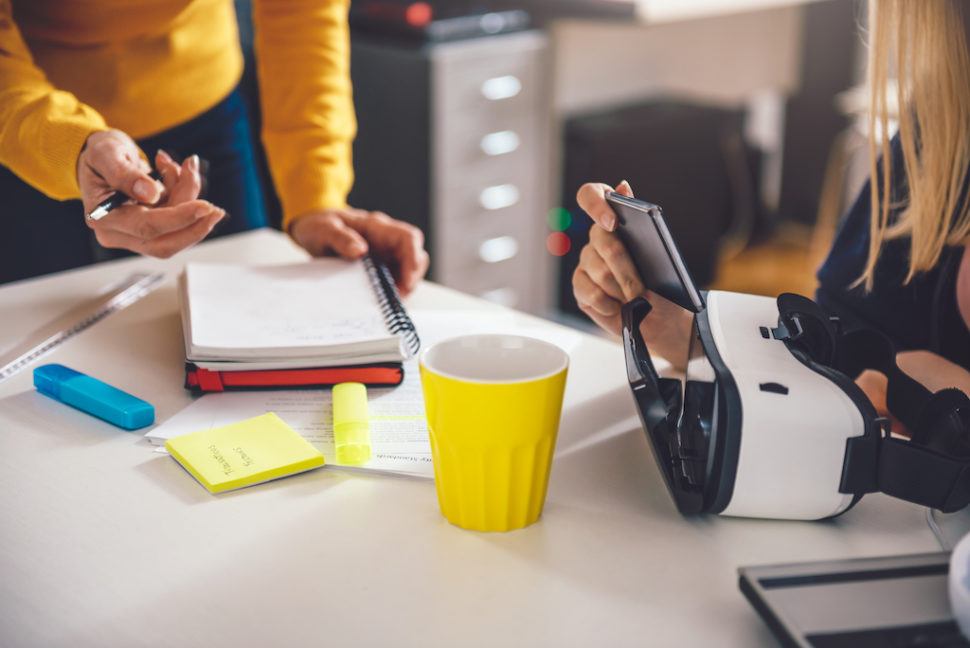 Provide Insights into the Product
To make the impression of a trustworthy product, you have to provide legitimate information. Jewelry is a costly affair and buyers want to be sure about the stuff and whether it serves their purpose or not.
You must provide valuable information like size, material, weight, etc. You can also add the outfits that it complements!
At the same time, you do not want to overwhelm you buyers with unnecessary information. So a good product catalog should be there to influence your customers positively.
---
Don't Forget Social Media!
This one is about basic marketing but new ways to do it. Social media is the biggest platform to make anything viral and reach out to the maximum audience. With proper resources and effective online marketing, you can raise interest about your brand.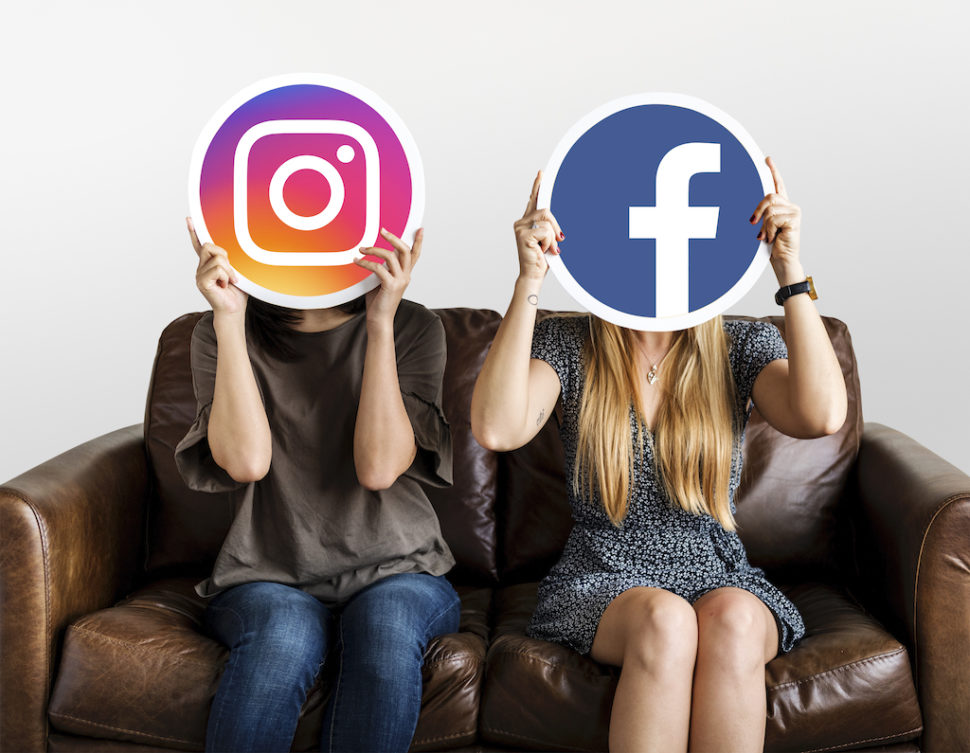 Advertise your products using Facebook, Instagram. Create pages and attract users to get to know your stock closely. This will increase the number of people visiting your product online and if it is represented competently, many will end up buying it.
Sarah Jane Nelson from Life is Rosey: Jewelry that Speaks shares her story
"When you post on Facebook or Pinterest, it needs to be VISUAL and done CONSISTENTLY.  I take some time at the beginning of the week to gather some photos, quotes, product shots and get them ready to go for use that week. I also find material to share from other sources that fit with my brand (blogs, products I like, photos that inspire, quotes). Then each day I get up before my kids and schedule the Facebook posts. I often do several days at a time, but it's important to stay engaged and make sure you're responding to posts. Of course, you can hire someone to do this for you, but I enjoy connecting with my customers in such a personal medium as Facebook. This doesn't mean you have to be online constantly.  Just schedule your posts in bulk and it's really pretty easy."
---
Now That Your Jewellery Business is Up
Now that your fledging jewellery business is up and running, what's next?
Like any small business that deals with physical goods in all possible variants, you're going to need some sort of inventory management in the background.
For a start you're most likely going to reach out for a spreadsheet. It's cheap, easy and everyone knows how to set up a simple tabular sheet for your inventory.
However, when business takes off you'll quickly find that spreadsheets just don't cut it anymore.
When you have sufficient volume and SKUs, you might want to look into a simple and easy to use inventory management system such as EMERGE App.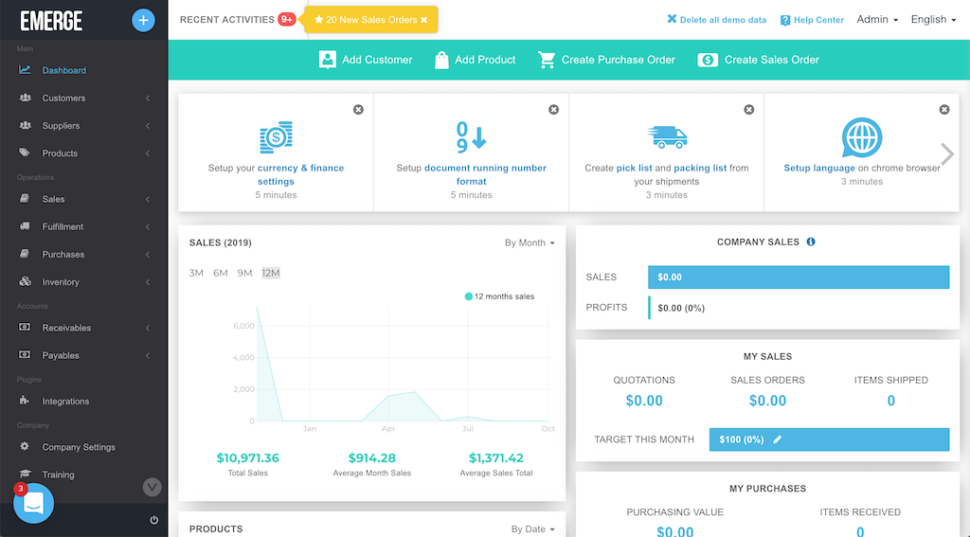 In fact we wrote another article on just how you can manage your jewellery inventory with it.
Finally, EMERGE App integrates nicely with online stores and marketplaces such as Shopify, WooCommerce, Amazon, eBay, and Etsy.
---
Conclusion
So this was a complete guide on how to sell your jewelry online and how to prepare yourself before you start selling. Now it's time to spread your wings and start a fantastic jewelry store!