5 Forums Every Wholesalers Should Know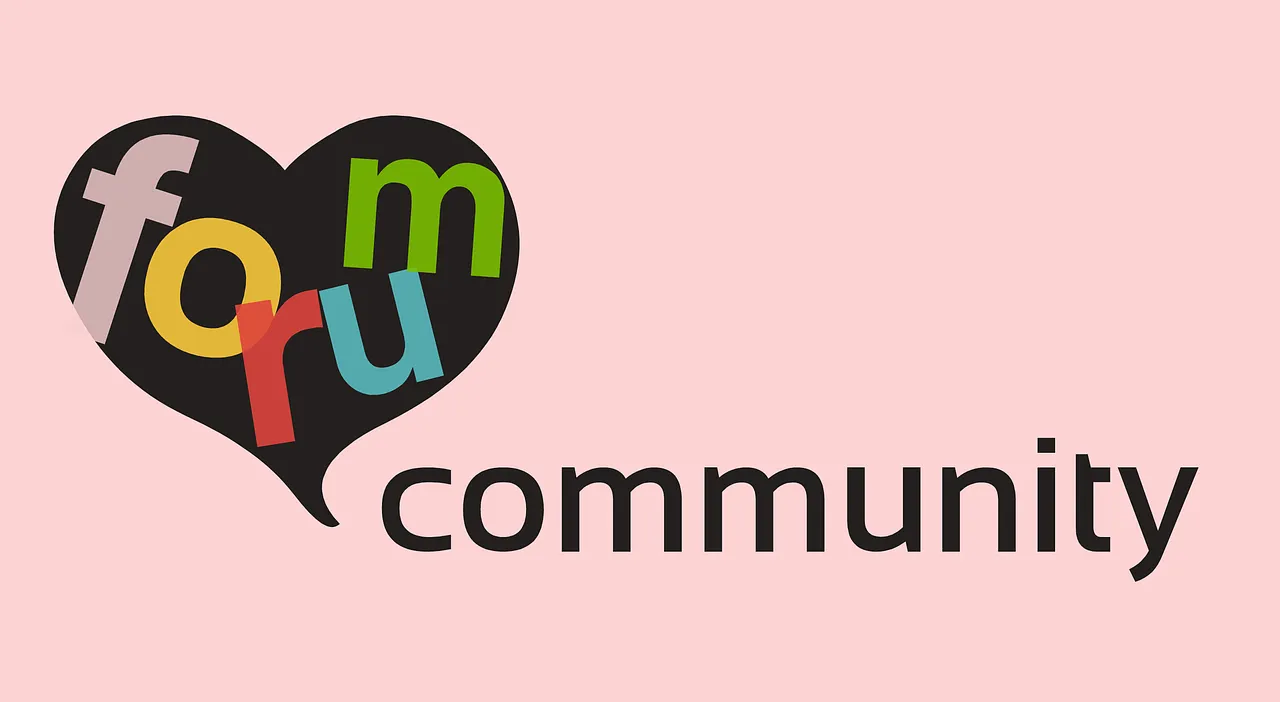 Wholesale forums are a great way to buyer and seller interaction, without any intervention of unwanted parties.
These forums mean strict business and nothing else. It makes the process of supply and demands a lot easier.
These forums come into the role when you want to sell or buy things at a low price, without any problem.
There are a lot of forums available, but only few of them have trusted sellers and buyers. So we handpicked the best 5 forums.
5 Best Wholesale Forums you must know:
#1. Thewholesaleforums
.
co
.
uk

Website: https://www.thesuppliercentral.com/
User base: There are more than 100,000 verified members in this forum.
It is UK's best wholesale forum, giving an opportunity to many sellers and buyers to meet their requirements according to the desire of trading.
You can trade almost every kind of product, whether it is electronics, furniture, households, cosmetics, clothing, services and tools.
You get a number of wholesalers to choose from if you're a buyer.
Sellers also have a good amount of potential buyers whom they can negotiate and initiate the deal with.
Other than that, I love their blog section, they share quite good how to tutorials for wholesalers.
Must Read: How offline merchants can sell online
This platform is overall, a complete place for a wholesaler to start with.
It helps you in the overall development of your business, not just selling the stuff. You will get enough information on how to deal and survive.
The Wholesale Forums is the best forum for UK based wholesalers, and with a huge variety of wholesalers to choose from.
#2. Wholesaleforum.com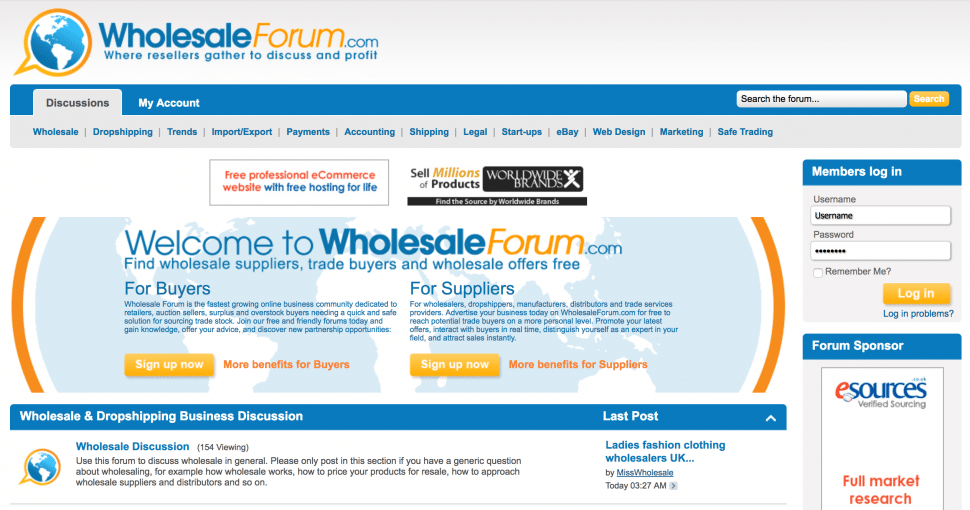 Website: https://www.wholesaleforum.com/discuss/
User base: There are more than 125000 registered members on the forum, with always more than 500 users online at any given moment.
It is the single biggest platform for wholesaler available on the internet.
You can find oodles of sellers and buyers with numbers of products to offer. You can fairly get an idea about the reach and how big the forum is.
The forum deals with all kind of products and services, making it the largest forum for maximum daily business transactions.
They have emphasized more on the security of the buyers and sellers. It is verified by E-sources, largest sourcing company available currently. This makes it every secure to have business transactions and discussions.
You can have deep discussions about trends of a particular product, its margin, and all the other aspects. It is one stop place for all your wholesale doubts and discussions.
So, if you want to take care of your business seriously, and do expect an increase, then this wholesale forum should be your sure thing.
#3. Cellpex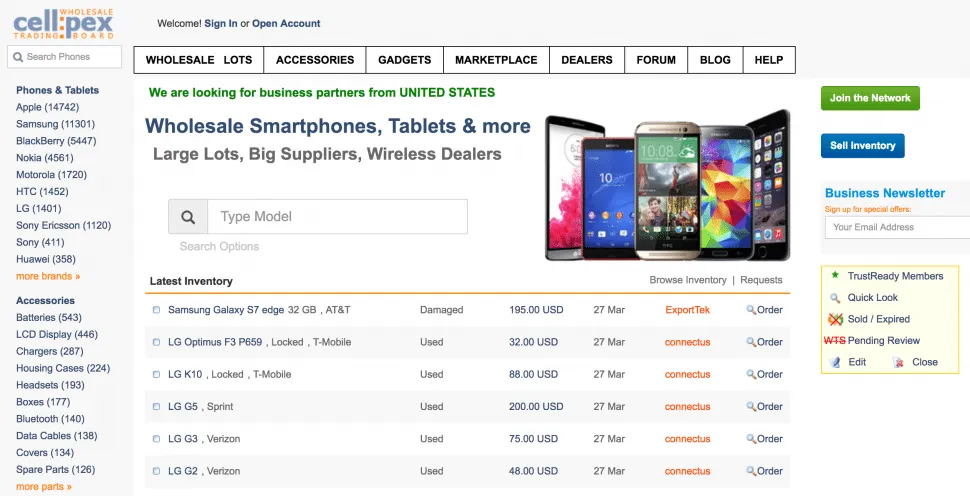 User base: 100,000 members
This wholesale platform is solely designed and optimized for cell phones and electronic devices only.
You can sell and buy refurbished, old and new cell phones of every brand available. So if you're a smartphone wholesaler, this wholesale platform is paradise for you.
The layout of this forum is awesome, and you can look out for the device you want.
This wholesale platform is niche type, its a best choice for electronic merchants, but if you are not into smartphones and electronics you can join the rest of the forums mentioned here.
#4. Toptenwholesale.com (Earlier known as WholesaleU)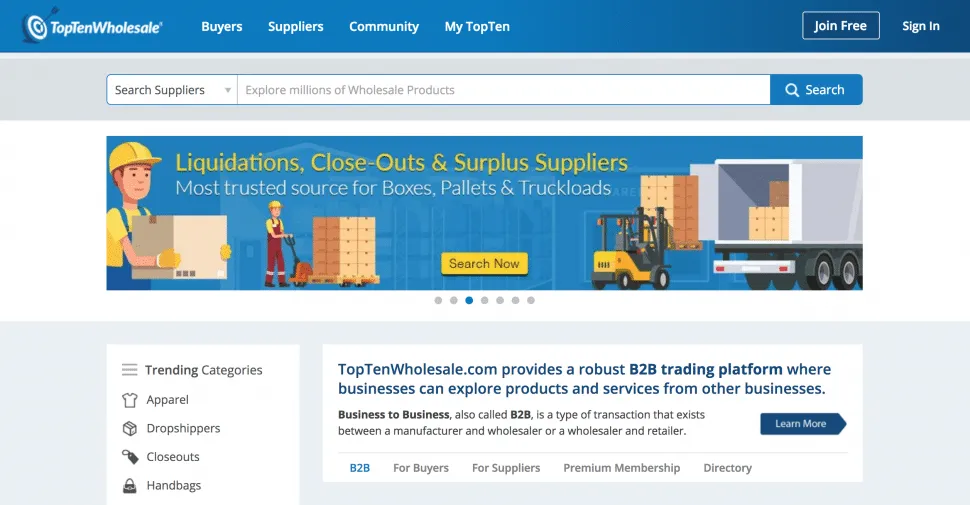 TopTenWholesale.com is a sourcing platform that connects wholesale buyers with suppliers in the USA and abroad.
Millions of retailers, chain stores, boutiques, drop shippers, auctioneers, eBay & Amazon sellers, flea marketers and other resellers have used TopTenWholesale.com to find wholesalers, manufacturers, importers, distributors and trading companies.
#5. SaleHoo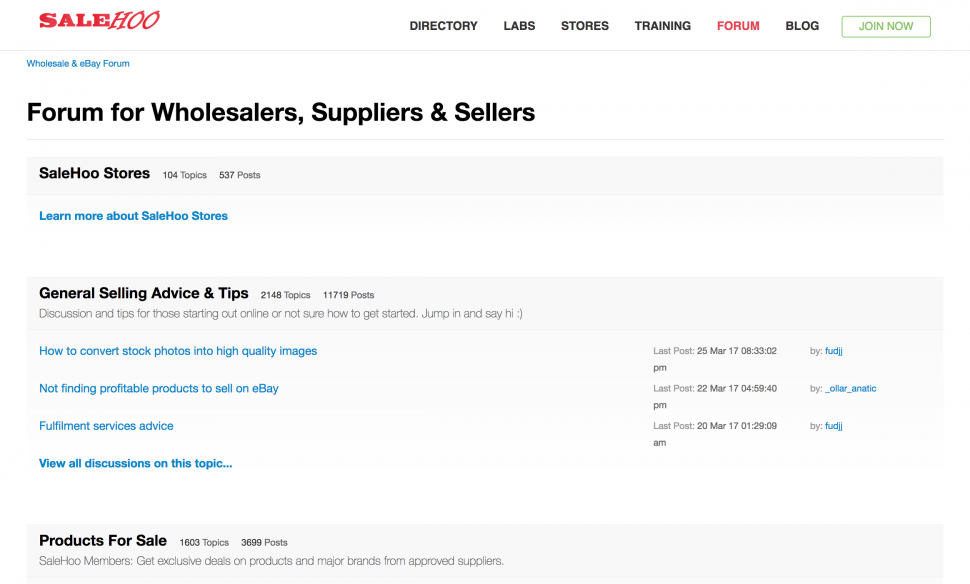 Website: https://www.salehoo.com/forum/
User base: You can find 1.6 million products from 8000+ genuine wholesalers who only want some serious business.
SaleHoo is an online wholesale directory and community for online traders, eBay sellers, and traditional retailers.
SaleHoo has a huge directory you can use to find a wholesaler, drop shipper or manufacturer for pretty much any product you can think of.
This platform is only for extensive dealing in the wholesale market for every kind of product currently available. You can easily register yourself and start buying or selling immediately.
Overall, this site is quite innovative, and give an extensive overview of the wholesale market. You can join it and grow your business by readily selling and buying stuff.
Conclusion:
These 5 wholesale forums are definitely going to meet your desires as a wholesaler, by giving you unmatchable exposure to a large number of buyers present in them.
Extra mile:
If you are like me, you would like to research more.