7 Steps to Manage Your Chemical Inventory With Software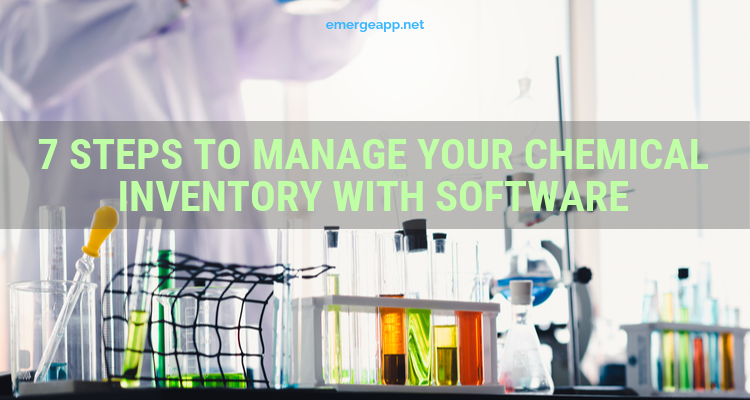 If you're dealing with chemicals in your business, you have an obligation to store and transport these chemicals safely. Also, you need to comply with various government laws and regulations that include keeping a proper record of hazardous chemicals. Here, we'll cover how you can use off-the-shelf inventory management software to manage your chemical inventory.
First, we'll start by listing some obligations when dealing with chemicals in Europe, Australia and the United States. Then we'll translate how you can comply with these laws using barcoding and inventory management software. Finally, we'll show you how one popular inventory management solution helps you manage your stock of chemicals.
---
Hazardous Chemical Storage Laws Around the World
Dangerous chemicals need laws to regulate their use, storage and transportation. They are a potential and significant risk to our health, safety and the environment. Toxic chemicals, gases or carcinogens can harm humans. Liquids and explosives can damage property. Water, soil and air contamination can ruin the environment.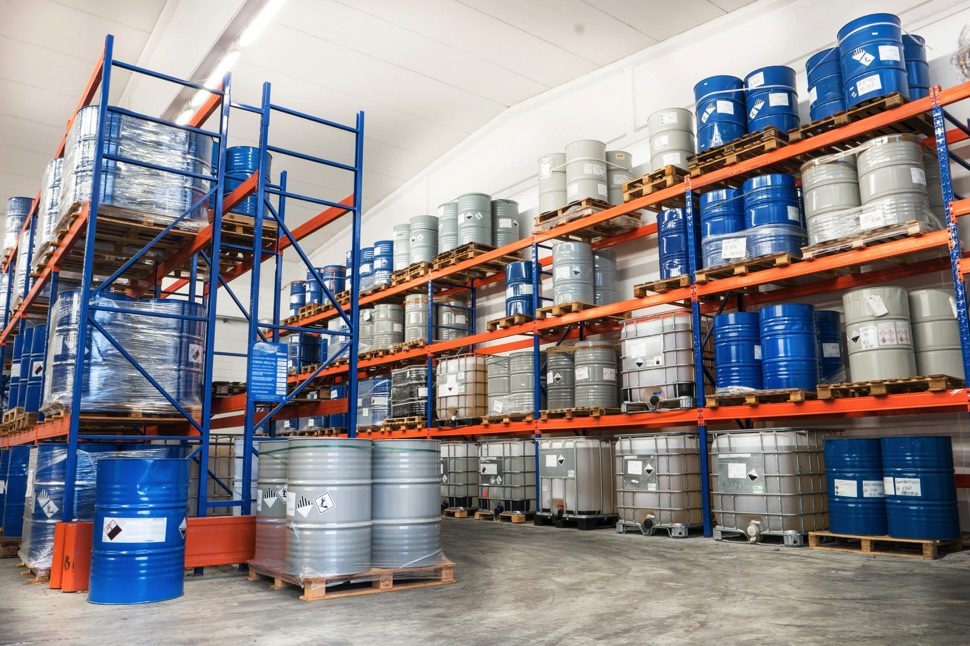 ---
A. Australia
In Australia work health and safety laws differ between the states. There is a national model for Work Health and Safety Regulations that aims to provide a consistent framework for dealing with chemicals.
Manufacturers and importers, in particular, must first determine whether a chemical is hazardous. If it is hazardous, it must be correctly classified.
Businesses dealing in chemicals must supply a safety data sheet for each chemical. This contains information such ingredients, first aid treatment and toxicology.
Finally, chemicals must be accurately labelled following the Globally Harmonized System of Classification and Labelling of Chemicals (GHS).
---
B. Europe
The United Kingdom and the European Union follow the EU regulation on classification, labelling and packaging of substances and mixtures (CLP Regulation).
In addition, manufacturers and importers must register chemicals with the European Chemicals Agency according to the Registration, Evaluation, Authorisation and restriction of Chemicals (REACH) regulation.
---
C. United States
In the United States hazardous chemicals are tightly regulated by federal law under the Toxic Substances Control Act (TSCA).
Similarly, manufacturers and importers must submit chemicals to the TSCA Inventory. This is managed by the Environment Protection Agency (EPA).
They must also keep records of any complaints of health or environmental harm caused by the chemical, their manufacture or distribution.
Finally, manufacturers and importers must report the production and use of chemicals in large quantities to the EPA. This is to protect the general public from potential chemical risks.
---
Compliance with Hazardous Chemical Laws Using Technology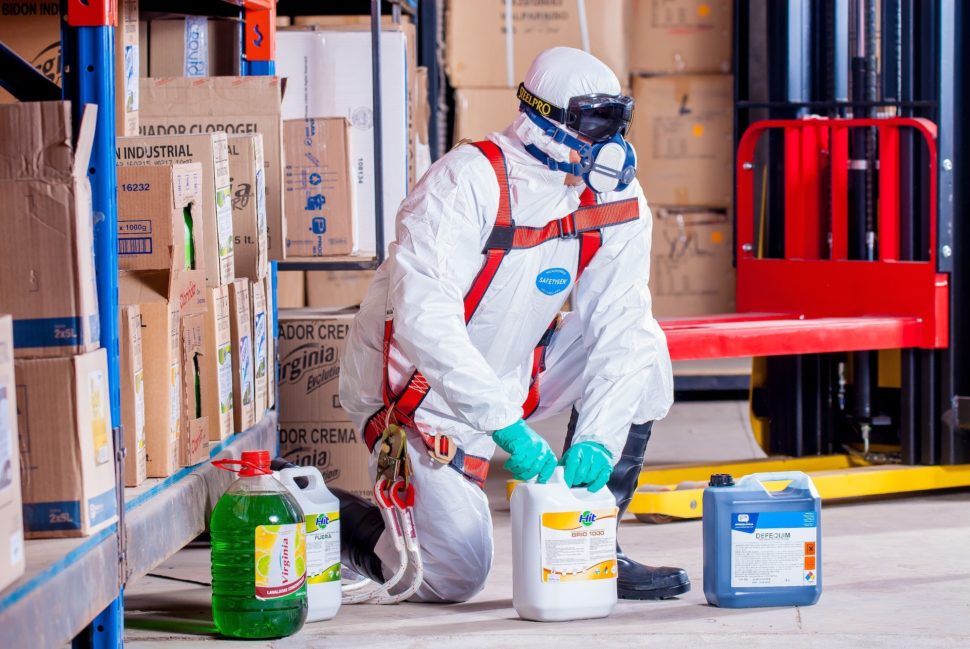 What can we learn from this quick summary of laws regulating the trade of hazardous chemicals around the world?
Importers and manufacturers are treated alike.
Chemicals must be classified correctly.
General records must be kept about the effect, production and use of chemicals.
Chemicals must be labelled in accordance with European or international standards.
A safety data sheet must be supplied for each chemical.
We can see that the information keeping requirements are not overly demanding compared with, say, the initial application to import or manufacture a new chemical.
Also, businesses are free to use any means to meet the regulatory record-keeping requirements. Hence, you don't need costly, special purpose software to manage your chemical inventory.
You could use paper records and spreadsheets. But this will quickly become cumbersome and unwieldy to use when you're dealing with hundreds or thousands of chemicals. And they need to be regularly updated.
Using database software is another option. However, databases have a steep learning curve for general users. In addition, you'll need to hire a developer and a database administrator well-versed in Structured Query Language (SQL).
The best way forward is to use a readily-available inventory management system. Then pair it with off-the-shelf barcode technology used in warehouses. This way you don't need to write software from scratch or pay for expensive custom solutions.
---
Managing Chemicals with Inventory Management Software
Here, we'll propose a low-cost chemical inventory management solution using barcode readers and a cloud inventory application called EMERGE App. We'll also explain why it is ideal for small-and-medium-sized businesses.
Just follow these 7 steps to get started with using barcodes and inventory management software to manage your chemicals.
---
1. Choose Your Barcode Software and Hardware
A barcode printing and scanning system is a software and hardware combination. It includes UPC/EAN code printing software together with a thermal printer and a handheld barcode scanner.
There are many brands and models of barcode printers and scanners to choose from. Pick a brand within your budget. Make sure you get can regular consumables and support in your area.
We recommend desktop barcode printers for chemical inventory use. They have a small footprint that sits on your desk. They're best for jobs requiring 1,000 or fewer labels a day. Zebra and SATO are two popular brands that have many desktop models to choose from.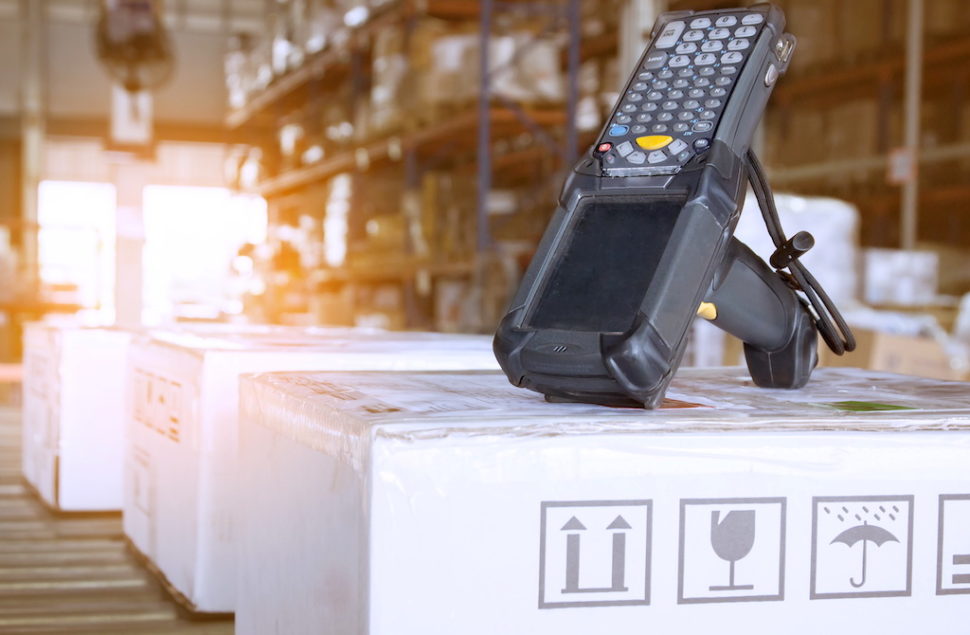 Next up, you need to choose a handheld barcode scanner. A scanner is simply a handheld means of reading a barcode and entering it into your inventory management software. Pick one from the major players in the market: Honeywell, Motorola, Datalogic and Symbol.
For small and medium-sized businesses, you generally need a cordless or corded barcode scanner. Bluetooth cordless scanners are convenient and portable but they do need to be regularly charged. Corded models are reliable but the cord does get in the way of things.
Finally, pick your barcode label software. The barcode application should let you design custom barcode labels to be printed on your supported barcode printer. Seagull Scientific is a popular choice for barcode printing software.
Now that you've chosen your barcode printer, scanner and software, it's time to put them to use in managing your chemical inventory. Print barcode labels for your chemical containers and then stick them in a standard location. You should use the same position where possible for quick identification and faster scanning.
---
2. Pick Your Inventory Management Solution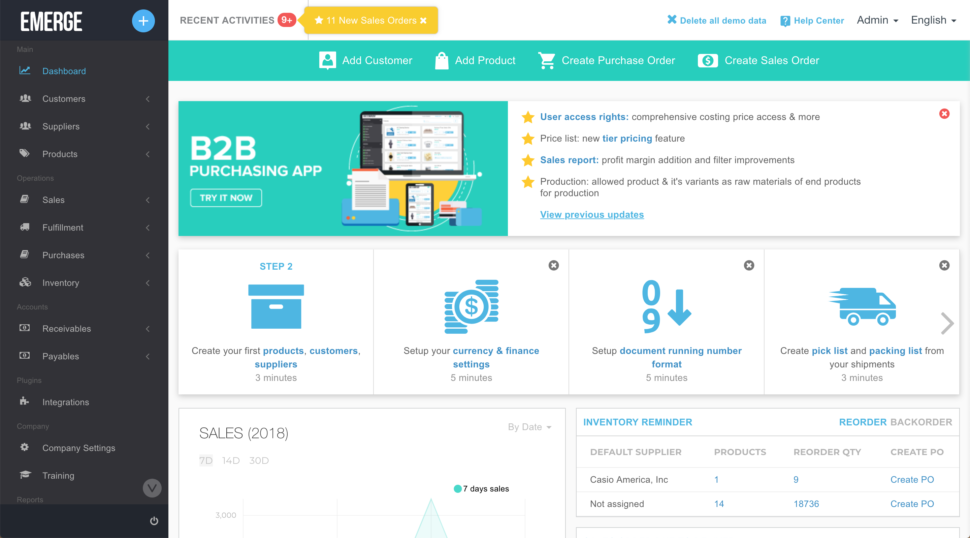 There are many inventory management solutions out there. Some are simple, others are complicated. Some are geared towards e-commerce businesses while others are the equivalent of Swiss Army knives.
Here, we recommend EMERGE App for a couple of reasons:
It has a user-friendly interface that removes any steep learning curve in using a new system.
It's designed with a sensible business workflow in mind, allowing you to move between customers, suppliers, products and orders with ease.
It is wallet-friendly with reasonable monthly subscriptions, no minimum commitment period, and easy scalability if you need to add more users to your business.
Its flexible nature means that it's equally at home managing your chemical inventory and meeting your reporting requirements.
For a no-obligation trial, register for a free account.
---
3. Add Your Hazard Classes
To get started with EMERGE App you need to add your customers, chemical suppliers, price lists and products. We'll focus on products here to illustrate the chemical inventory management process.
Firstly, we need to add hazard classes. This is important for regulatory purposes as hazardous chemicals must be classified properly. Adding the brand of the chemical would also be useful for record-keeping.
Click on Categories in the Product module. Then click on New Category to add hazard classes according to GHS or CLP regulations, for example, flammable solids, oxidizing liquids, and so on.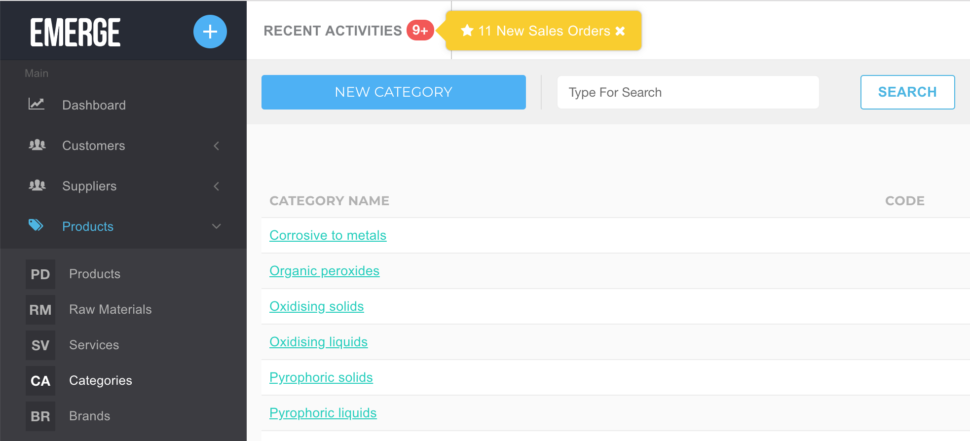 Likewise, click on Brands in the Product module and add as many chemical brands as you need, for example, BASF, Dow Chemical, etc.
---
4. Add Your Chemical Products
Now we can jump into adding your chemical products. Go the Product module and click on Products. Since your inventory is currently empty you need to add new products one after another or batch import them using a spreadsheet.
If you click Add a New Product, you'll be presented with a new product record. Enter the name of the chemical and a photo of the container. Enter or paste the barcode number into the SKU field.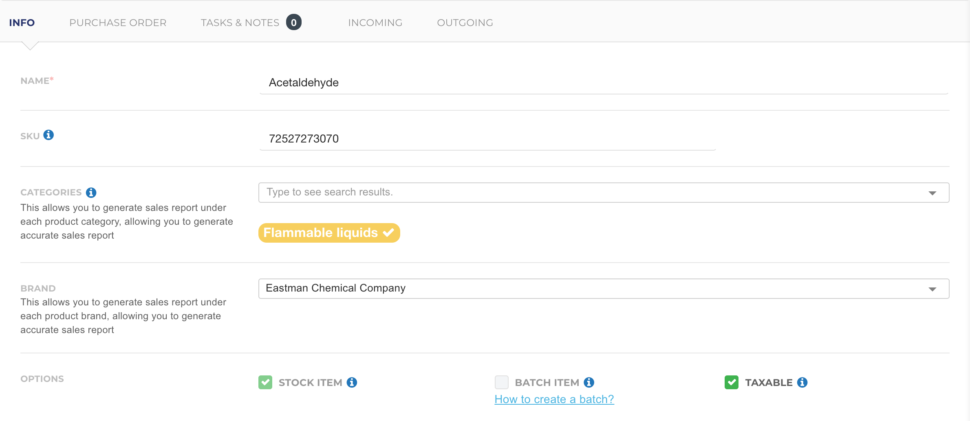 Next, select the appropriate hazard class for the chemical along with the brand, if any. Check the Batch Item box if your chemical product is sold in batches with or without an expiry date.
You can set up batches at the General Setup screen. Select a chemical product, add a batch name, then add as much information as you need such as the batch name, description and expiry date.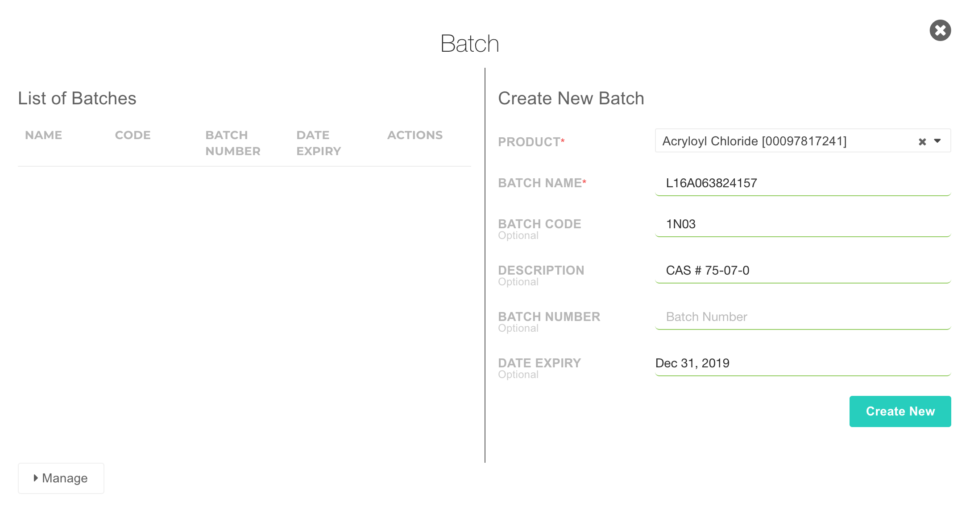 The rest of the product fields relate to general inventory data such as purchase and selling prices, default suppliers, default warehouse location, and units of measurement.
For packing dimensions, chemical exporters will appreciate a time-saving tip here. Enter your container dimensions and EMERGE App will automatically tabulate weight and CBM for the shipping packing list.
---
5. Attach Regulatory Requirements
Now that you've added all your chemical products to your inventory, you need to fulfil regulatory requirements for record-keeping and reporting.

Click on a chemical product in the Product screen. You will see an overview page of the product. Then click on Tasks & Notes to add text descriptions. A most useful feature is the uploading of files such as the safety data sheet or complaints about alleged effects of the chemical.
---
6. Add Raw Materials and Production Orders
If you're a chemical manufacturer you may have to deal with raw materials to produce your final product. For example, phosphates, calcium carbonates and soda ash.
You add raw materials as you would with your chemical products. Click on Raw Materials in the Product module. Then add or import all the raw materials that you need.

Then go back to the chemical product and select the raw material checkbox. This will present a list of raw materials and their quantity needed to make the final product.

To start a production order, go to a product and click Produce From Raw Materials. Enter the cost price and production expenses per unit, the finished product quantity and the warehouse to store the final product. Click Produce to begin production.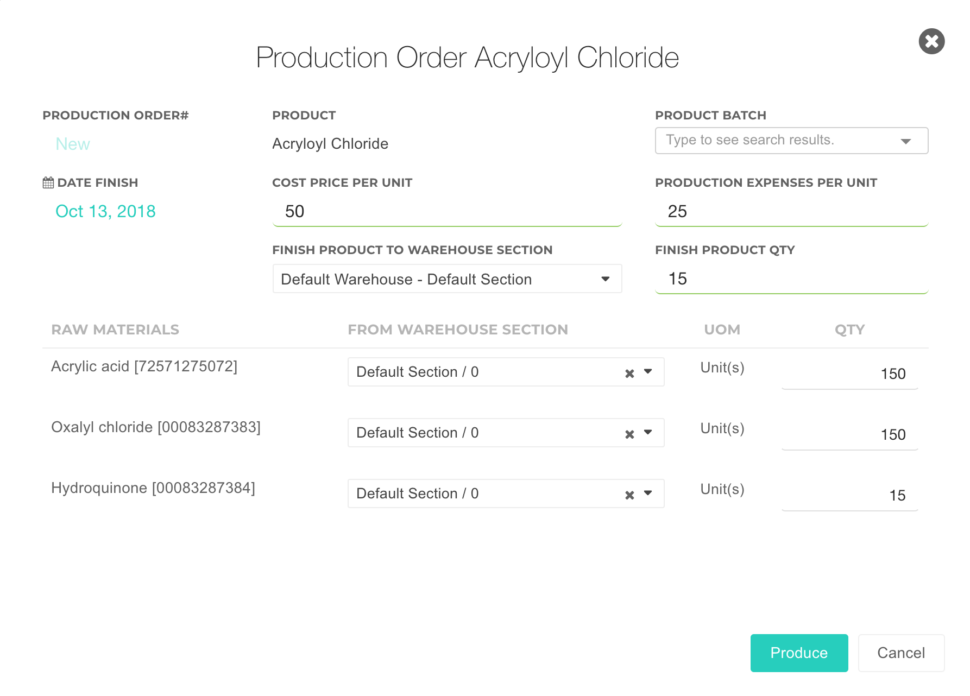 Once finished, the final product will be added to the in-stock quantity while the quantity of raw materials used will be deducted.
---
7. Implement Your Barcode Workflow
In general, to work with each chemical in your inventory, be sure to scan the barcode in the product or SKU fields in EMERGE App. This allows you to quickly retrieve your chemical product in price lists, quotations, sales orders and purchases.

To quickly add products to a new sales order, just begin scanning each item and their quantity. A new sales order will automatically be created in EMERGE App.

If you're selling chemicals, you can use barcode scanning to quickly dispatch chemical products in a shipment. This will verify whether it contains all the chemicals ordered, or whether it differs.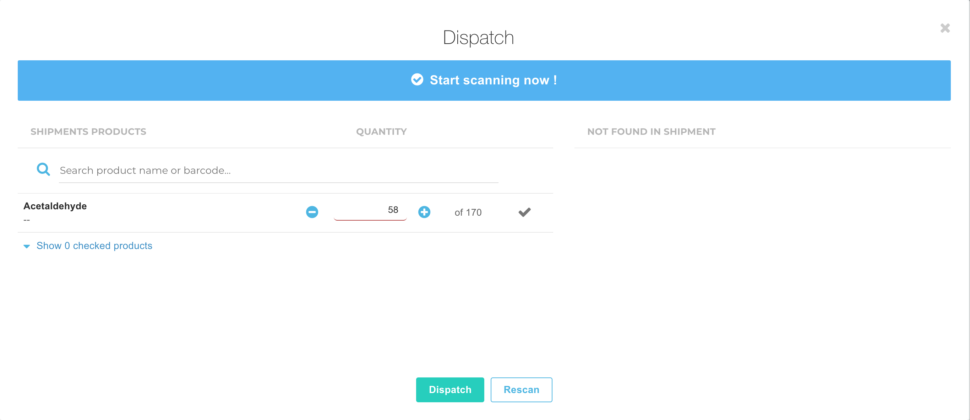 Pick a shipment and click on the Dispatch button. Grab your barcode scanner and start scanning your chemical containers. The quantity will increase by one if the barcode matches the product.
Once done, click Dispatch to continue with the shipment.
---
Conclusion
Rightly so, governments around the world regulate hazardous chemicals. Businesses that deal with dangerous chemicals need to comply with record-keeping and reporting requirements. You can accomplish this with readily available inventory management software and barcoding technology. In addition, inventory software streamlines the workflow for wholesalers, distributors, importers and manufacturers of chemicals.
Disclaimer: This is a general guide to using inventory management software together with barcoding technology to manage your inventory of chemicals. It is not a complete or definitive guide to your regulatory obligations in dealing with hazardous chemicals. Please seek business and legal advice in meeting your country's requirements for hazardous chemicals.